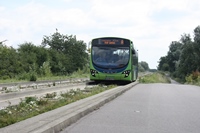 Sections of the guideway will be closed for repairs and another potential legal battle with BAM Nuttall looms
According to Cambridge News, over £30m is needed to bring the Cambridgeshire guided busway up to scratch.
The large bill is needed to repair a series of defects outlined in a new technical report. Cambridgeshire County Council says legal and technical advice pins the blame on contractors BAM Nuttall, so they should pay.  Around £29.6m would be spent on the programme of repairs, with an extra £1.1m to be claimed for other costs.
Bob Menzies, the council's Service Director for strategy and development, said: "The technical and legal advice is that these defects were created or left by the contractor and they should be fixed. More importantly, this should be paid for by BAM Nuttall.
"The busway is a highly successful transport system that reached its passenger targets early and is used for millions of journeys.
"We have fixed some of the defects, but the advice is if we leave them then beams could move, seriously effecting ride quality."
The report outlines that some parts of the Busway were either not built to the agreed design or don't comply with national standards specified in the contract. These include foundations not being deep enough and inadequate drainage. Although the defects affect ride quality there are no safety issues, but if left could mean the ride quality would continue to deteriorate.
The council has estimated costs of £5.3m for a fresh legal battle with BAM Nuttall over the problems, but hopes the dispute will not reach court.
Reacting to the news, Andy Campbell, Managing Director at Stagecoach Cambridgeshire told CBW: "We were clearly surprised by the report. Thankfully, the local authority made us aware of it prior to it being made public. We were particularly concerned as to how it went out. The Busway is still safe to use.
"We are disappointed that we will lose sections of track while repairs are carried out. However, we understand the work needs to be completed. We will have to divert some buses during the works but we'll attempt to keep to this to a minimum.
"We can't do bi-directional working due health and safety reasons. Put simply, the sections of track are so close together – this no safety zone."
He added: "Hopefully they will repair the southern end before all the new houses are built and then they'll repair the northern end prior to the construction of the new town of Northstowe."