The Crowthorne Community Minibus provides a friendly service for elderly and disabled people living in the Crowthorne area. The charity collects clients from their homes and transports them to various places for interesting day trips where they have the chance to meet new people before being returned home later that day. Crowthorne Community Minibus supports around 200 members and consists of approximately 30 drivers and a board of trustees, all of which are volunteers.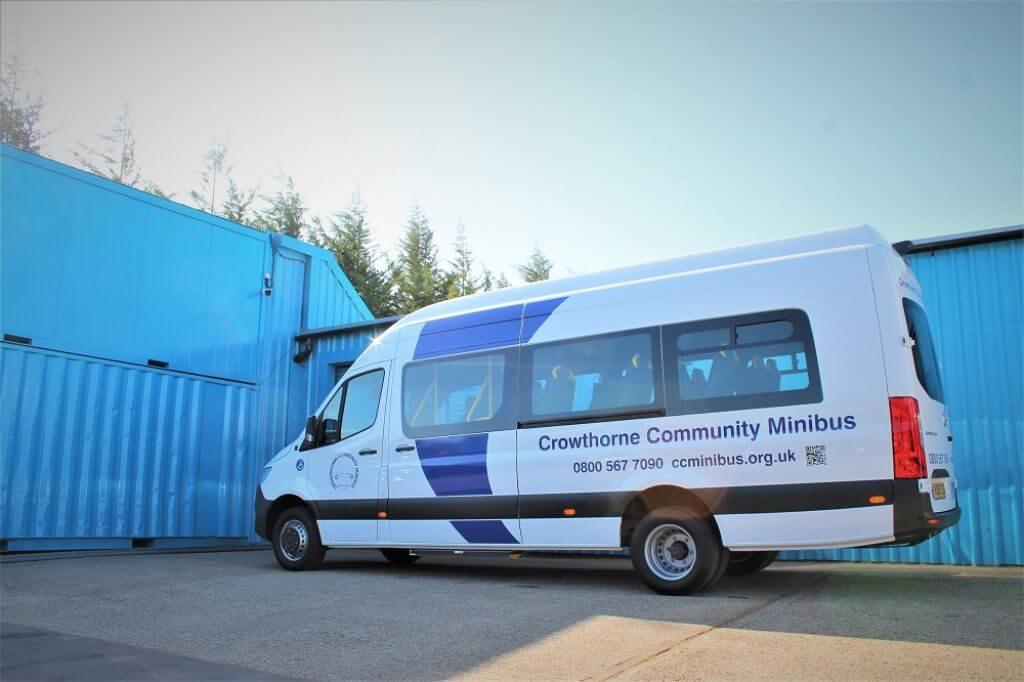 Stanford Coach Works' (SCW) Super Flat Floor system has been specially designed to protect the wheelchair accessible tail lift by increasing its ground clearance whilst also allowing for more space in the rear saloon by removing any wheel arch intrusions.
To protect the tail lift SCW has housed it between the Super Flat Floor and the original vehicle floor; this ensures that no corrosion or damage occurs. Due to the increased height of the floor, all Super Flat Floor conversions are carried out on an extra-high roof model chassis.
Crowthorne Community Minibus' conversion is based on the New Generation Mercedes Sprinter 516. The extra-long wheelbase, extra-high roof model includes automatic transmission, satellite navigation, a single cab passenger seat and for safety reasons, a 62mph speed limiter and tachograph. The factory white paint finish has been chosen to complement Crowthorne's personal blue signwriting.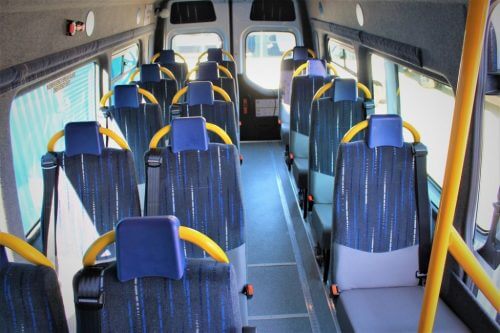 The new SCW switch panel has been fitted to the left of the driver's steering wheel, which includes the controls for the rear saloon lights, reversing alarm, tail lift, Eberspächer rear saloon heating and air-conditioning and for the electric side step.
The conversion features 14 M2 tested Phoenix Blenheim passenger seats in the rear saloon. All 14 of the seats include NMI removable seat fixings and the three rearmost additionally include carriage wheels. With seats removed the Sprinter has the potential to facilitate up to five wheelchair occupants.
All of the passenger seats have been upholstered in a new 2019 Camira blue/grey patterned moquette with wipe clean breathable Ambla bases and lower back curve. Tracking has been fitted to accommodate the 14 seated passengers or five wheelchairs; this has then been overlaid in non-slip vinyl floor covering.
For passengers using wheelchairs, a PLS fully automatic tail lift, housed within the vehicle for protection, has been included. Once inside the vehicle each of the wheelchairs can be secured to the floor, side wall and full-length cant rail tracking using the Unwin Quattro wheelchair and occupant restraints provided.
Paul Dedman delivered the minibus to David Hobbs, Crowthorne's Chairman, and the rest of the staff at Crowthorne Community Minibus' centre in Berkshire.
Read more news at: cbwmagazine.com/category/news