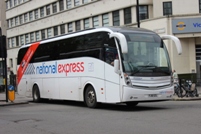 National Express Group has released updates on trading for the First Half Year ended June 30, 2013, ahead of its Half Year results which are due to be released on July 24, 2013.
Trading in the First Half Year has been in line with group expectations with revenue in the First Half Year having grown by 7% and is on course to deliver between £125m and £150m of free cash flow in each of 2013 and 2014.
In the UK Bus division, after a weak first quarter for passenger volume, reflecting poor weather and the impact of austerity measures, the second quarter has seen a turnaround in patronage for UK Bus. Commercial passenger volumes have grown and the reduction in the number of concession passengers all but eliminated. As a consequence, network mileage is broadly flat and like-for-like revenue has increased by 3%. Despite higher fuel and pension costs in 2013, with the reduction in BSOG now lapped, the outlook for the remainder of the year is positive. Operational performance is excellent, with record levels of punctuality reflecting our investment in vehicle tracking systems. Fleet investment continues, with 90 new vehicles delivered so far this year.
Core revenue rose 3% in the first half year in UK Coach. The company's focus on low fares is proving attractive to consumers and driving volume growth. This has been supplemented by the successful start-up of the Luton Airport services and additional passengers booking through the Ryanair marketing agreement. Growth in Eurolines and a new Airlinks contract have offset weak Rail Replacement revenue, which followed the cessation of the East Anglia franchise.
Dean Finch, Group Chief Executive, commented: "I am pleased with our revenue improvement across the business, reflecting the attractive value and quality service we offer our customers. I believe that the combination of organic growth and operational excellence, cash generation and new international contract opportunities will drive returns for National Express and our shareholders."