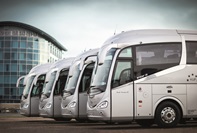 Stewarts Coach Group is celebrating after being awarded Nationwide Coach Operator of the Year at the 2015 UK Corporate Excellence Awards 2015.
The operator received nominations for the awards from both members of its expansive subscriber base and industry professionals from across the globe.
Stewarts Coach Group's CEO and co-owner, Andy Cotton, said: "We are very proud to have been given our award as the Nationwide Coach Operator of the Year for the UK Corporate Excellence Awards 2015.
"This success is down to our ambition of providing the very best in all that we do. 90% of our business is repeat business, our attention to safety and service is why clients consistently use us."
The 2015 UK Corporate Excellence Awards focus on firms and individuals across the British Isles, regardless of size, age, specialism or value, that are not just successful, but 'undoubtedly and demonstrably special; the people and businesses that define how we view and regard their entire industry and who, taking their place firmly at the forefront of their respective sectors, become a byword for forward-thinking excellence and achievement.'
Originally established in Reading in 1986 as a small taxi and mini-coach business, Stewarts Group now comprises two successful businesses – Woodley-based Stewarts Coaches and Leicester-based Woods Coaches. Stewarts employs more than 100 staff and operates an extensive fleet of more than 60 vehicles.
The company provides transport services to clients in both the public and private sectors, as well as to private individuals.
"Everyone at Stewarts – drivers, vehicle maintenance workers and office staff – understands exactly what we want to achieve and plays an important part in our success," Andy added.
"We all share the same core values and commitment to passenger safety, driver welfare and exceptional standards of service."