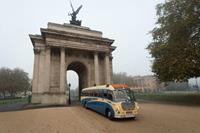 The three Bedford vehicles are the first ever coaches to take part in the London to Brighton Veteran Car Run
Long established Essex based company Lodge Coaches of High Easter donated three of its vintage coaches from its heritage fleet to the BBC's Children in Need appeal for Radio Two's auction prize, '40 GO BONKERS TO BRIGHTON.'
Three vehicles were supplied – a 1949 Bedford OB, 1950 Bedford OB 'Toastrack' and a 1956 Bedford SB.
Listeners were given the chance to bid by auction for a seat on one of the vintage coaches participating in the London to Brighton Veteran Car Run. This is the first time in the 119 years of the event that coaches have been allowed to take part.
BBC2/Top Gear presenter Chris Evans, Radio 2's Ken Bruce and Alex Jones from BBC's The One Show drove the vehicles with the 40 successful bidders, all dressed in period costume who between them had paid over £350,000 for the privilege.
Starting at 0700hrs on Sunday from Hyde Park, the route took them under Wellington Arch past Buckingham Palace, along The Mall and across Westminster Bridge, then south along the A23 to the finish at Marine Parade on Brighton seafront.
A brief stop for refreshments was made at Crawley where Harrods provided breakfast for participants amongst a scrum of media attention.
On arriving in Brighton, Chris Evans said: "That was without doubt the best car experience I have ever done. I had absolutely no idea it was such a fantastic event – so wonderfully, wonderfully joyous. It's like the London Marathon, with so many smiling faces, often 10 deep on the roadside cheering you on all the way to Brighton."
The Royal Automobile Club's Ben Cussons, Chairman of the Veteran Car Run Steering Group, said: "This must have been one of the best London to Brighton Runs ever.
"Motoring more than a century ago was never for the faint-hearted but today's mild conditions were welcomed not just by the participants but also by the hundreds of thousands lining the entire route.
"I would particularly like to extend my thanks to Lodge Coaches for providing Chris with his coaches and all the volunteers and marshals along the 60-mile route who make this wonderfully unique and very, very special event possible."
Commenting on the weekend, Lodge Directors, Robert Lodge, Andrew Lodge and Christopher Lodge, said: "This was an amazing weekend in our company's 95 years of trading and when we were asked by BBC's Children In Need to provide the vehicles it was obviously a very easy decision to say yes and help support such a great cause."