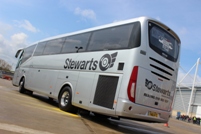 Reading-based Stewarts Coaches has moved into a new depot in Headley Park, Woodley from its previous site at Grazeley Green.
Located at the centre of one of Reading's main industrial areas, the depot is strategically located with respect to existing corporate clients and offer easy access to the M4 and A329M.
The company said the new location offers excellent connection links to neighbouring towns and features state of the art workshop facilities, indoor vehicle parking, superb office accommodation, a new training academy and sophisticated security and fire alarm systems.
Andy Cotton, Managing Director of Stewarts Coaches, told CBW: "We have invested £2.5m in our new Reading headquarters which underpins our confidence in our expansion strategy and wonderful staff. Our new home is representative of our core aims of putting safety and quality at the forefront of everything we do – ensuring our amazing Drivers have the very best facilities at their disposal."
Stewarts Coaches was established in 1986, purchased by the current owner in 2003, and now transports in excess of 1.5 million people per annum.
For more information visit www.stewartscoaches.com