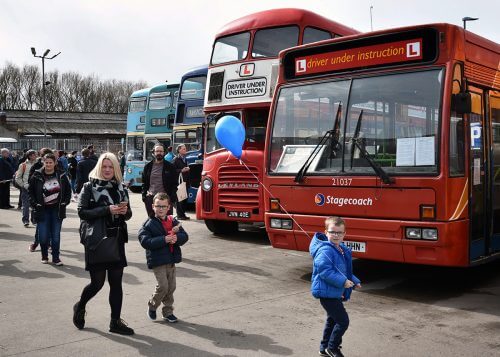 Stagecoach North East's Stockton bus depot opened its doors to the public on April 8, celebrating five decades of local operator Teesside Municipal Transport (TMT).
The event drew crowds of all ages; children as young as two were excited to sit behind the wheel of brand-new biogas and hybrid buses, while older visitors enjoyed the nostalgia offered by a display of historic vehicles.
Activities held on the day raised funds for local autism support charity, Daisy Chain, with over £430 collected on the day; Stagecoach North East contributed a further £750 to the organisation.
Local bus enthusiast group, The Teesside 500 Group, approached Stagecoach North East to host a joint celebratory event in commemoration of the anniversary of TMT's formation.
The group owns four buses, including one of the very first and one of the very last vehicles to wear the classic Teesside turquoise livery.
All four buses were on display at the event: JDC 599, a 1958 Northern Counties-bodied Dennis Loline Middlesbrough Corporation 'M bus', JDC 544L, a 1973 Northern Counties-bodied Daimler Fleetline CRL6, JVN 40E, a 1967 Leyland PD2 H240 and RDC 106R, a Cleveland Transit Northern Counties-bodied Bristol VR H106, which also provided a free shuttle service between the depot and Stockton High Street.
Alongside Teesside 500's four historic vehicles, the group arranged for the 'last' TMT Sunbeam trolleybus (VRD 186) to be displayed at the depot; the service was abandoned in April of 1971, by which time it was one of Britain's last remaining trolleybus systems.
Bill Woodward, Chairman of the Teesside 500 Group, commented: "We were delighted that Stagecoach agreed to hold this celebration of a significant day in the history of public transport on Teesside.
"It was a pleasure and privilege to be involved ourselves and to show our vintage buses alongside examples from Stagecoach's modern fleet.
"We hope this allowed visitors to see just how much the technology and, importantly, the passenger comfort of bus travel has changed in the intervening 50 years.
"We hope that everybody found the open day interesting and enjoyed the chance to see behind the scenes of a modern day bus company. Most importantly, everybody seemed to be having a great time and that's what a celebration is about".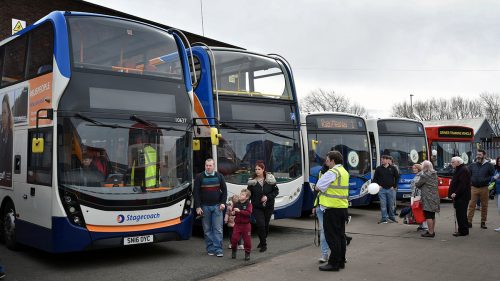 Nathan Stanislawski, Operations Manager for Stagecoach North East's Teesside depot, said: "It was fantastic to see so many people coming along and joining us in a celebration of Teesside's bus history, and many thanks to The Teesside 500 Group for its help and support to make this open day a great success.
"We have been able to show a fantastic array of old and new vehicles and both The Teesside 500 Group and our staff were able to give visitors an insight into driving and working on the buses.
"We are delighted to have been able to share this 50th anniversary with the local community and that everyone had such a good time."
For those who missed out on this event, the Teesside 500 Group's annual Vintage Bus Running Day takes place on April 22.