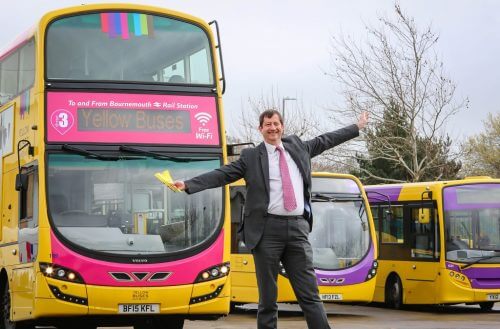 RATP Group-owned Yellow Buses said the punctuality of its services has 'improved dramatically' after it launched a revised network.
The Bournemouth-based company has kept its iconic yellow but brought in a distinctive colour coded fleet with bespoke branding for its various routes. It has also returned to simple route numbers with suffixes.
David Squire, Managing Director, said: "We put a lot of effort into getting these changes right first time.
"We engaged with drivers, the wider staff and customers through face to face interviews, online surveys and focus groups.
"All told us the same thing – people wanted punctual buses, through routes to Poole, better frequencies and the return to Boscombe Bus Station.
"We've delivered on all this and increased daytime frequencies on our two key corridors.
"The whole exercise has been a fantastic team performance. We've had some terrific positive feedback and our punctuality has improved dramatically in the first week of operation. I couldn't be more pleased."