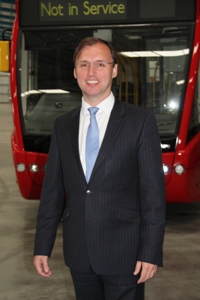 Jim Sumner will be replaced on interim basis at end of December by P G Nilsson and Glenn Saint
Following a board meeting on November 14, Optare announced Jim Sumner's decision to step down as Director and CEO with effect from December 31, 2012, to pursue other business opportunities.
He will be replaced on an interim basis by P G Nilsson, Ashok Leyland's Head of International Business, along with Glenn Saint, Optare's Chief Technical Officer, acting as deputy CEO. Mr Nilsson joined the board of Optare in March, having previously held positions at both Scania and MAN before joining Ashok in 2010.
Mr Sumner commented: "I would like to take this opportunity to thank my management team and all of the staff and employees who have worked incredibly hard to restructure and turn around the business.
"I am very proud of what has been achieved, such as moving from three factories to a new lower cost assembly facility, repositioning the business and establishing market leadership in low carbon single deck buses, putting the first electric buses into operation in the UK and winning our largest ever export order with the South Africa contract.
"I believe this is the right time for me to step down from the Board having completed the turnaround objectives we set out to achieve and secured Optare's long-term future as part of Ashok Leyland."
John Fickling, Chairman of Optare, said: "I wish Jim all the very best for the future. He has done an outstanding job in turning the business around from what was an extremely difficult position back in June 2009. We sincerely thank him for his unwavering leadership, clear direction and total dedication.
"I very much look forward to working more closely with Mr Nilsson whose international sales experience will be of great value to Optare. During his interim leadership the Board will have time to decide on a permanent appointment."