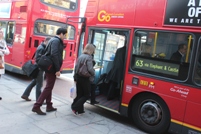 Annual statistics show there has been a drop in supported services and bus mileage while passengers have seen fare increases
This year's Annual Bus Statistics released by the DfT show bus mileage has decreased and average fares have increased in Great Britain over the last year, although the total number of bus passenger journeys has risen from 0.6% to 5.2bn.
The 2011/12 figures broadly show a continuation of recent trends, with patronage increasing in London and the south of England but falling elsewhere. Journeys in London now account for half of all bus passenger journeys in England.
Unsurprisingly, there has been a 2% drop in local authority-supported (rather than commercial) services in Great Britain outside London (from 23% to 21%).
The proportion was 21% in England outside London, 17% in Scotland and 30% in Wales.
In England outside London, mileage on supported services in non-metropolitan areas dropped by 10% this year, while supported mileage in metropolitan areas fell by an estimated 7% between 2010/11 and 2011/12.
Mileage on commercial services in England has remained broadly flat in recent years, but in 2011/12 was slightly (1%) higher than in the previous year 2010/11.
Responding to the new statistics, Stephen Joseph, CEO of Campaign for Better Transport, said: "Central Government claimed its cuts in local bus funding would not affect services. That couldn't be true and now we have the evidence. We know it's the young, the old and those without cars who are most likely to need a decent bus service. These figures show what these groups already know – in 12 months they've seen significant cuts in services and a 6.5% increase in ticket prices. This adds to the cost of living, makes it harder to access jobs, and increases isolation.
"Our concern is there's more to come. These figures only show the impact of cuts on local authority supported services. In April this year there was a further 20% cut which we would expect to hit commercial services. That will show up in next year's figures making them equally grim reading."
Concessionary journeys made up 35% of all bus passenger journeys in Great Britain in 2011/12, compared with 32% in 2007/08. In England outside London, the number of concessionary journeys has increased by 10% from 2007/08, with non concessionary journeys falling by 6% over the same period.
In England, the proportion of bus journeys which were concessionary in 2011/12 was lowest in London (33%) and slightly higher in metropolitan and non-metropolitan areas (both 36%), though over half the concessionary journeys in London are youth concessions.
Other stats for 2011/12 include:
Local bus operators in Great Britain operated 53,000 public service vehicles, of which the majority (80%) were buses and the remainder coaches and minibuses.
69% of all buses in Great Britain were issued with a Public Service Vehicle Accessibility Regulations (PSVAR) accessibility certificate and a further 19% had low floor access (but no certificate).
In the UK, bus and coach driver wages are lower than the average for all occupations, with median gross weekly earnings in 2011 of £430 compared to £498 for all occupations.
There was an increase in bus fares of 6.5% in England (5.4% in London, 6.8% in metropolitan areas and 7.6% in non-metropolitan areas). The all items retail prices index increased by 2.8% over this period.