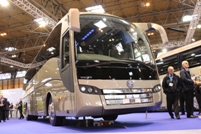 The Sunsundegui body option is proving a popular selection for Volvo Bus coach customers in 2013.
Volvo Bus UK began its partnership with Sunsundegui in 1999 with the Sideral body and the partnership between the two companies now extends across several European Markets.
Three Star Coaches, Cropley Coaches and KB Coaches are all recent recipients of Volvo vehicles with Sunsundegui bodywork. Omega Coaches has also taken delivery of a new B11R with the stunning SC7 bodywork.
Coach Sales Manager James Hyde said: "We've seen a lot of interest in this vehicle combination from many of our key operators – they are impressed with the eye catching and aerodynamic design.
"However, I have to stress it is not just the new SC7 option which operators are buying. We've had a long relationship with Sunsundegui and people know the combination so are always keen to choose it, whether they are purchasing a compact B7R, a mid-range B9R or the larger B11R."
Euro Bus Expo 2012 saw the launch of Volvo's 13-metre B11R chassis, which amongst other body options, supports the new Sunsundegui SC7 bodywork.
SC7 combines aesthetic and ergonomic design elements with the latest safety features for both passengers and driver. Its aerodynamic shape and the fairing of the air conditioning unit provide added benefits, such as reduced fuel consumption for the vehicle as a whole. This has been proven in service with excellent fuel consumption results over different operations.
Volvo Bus is working in partnership with Sunsundegui for the development of the Euro 6 chassis B11R 4×2, 6×2 and B8R on the SC7 range.
In addition, Volvo Bus importer, Mayer´s Cars & Trucks placed an order to build 90 coaches SC7 on B11R 4×2 for use in Israel. The deliveries are expected from June 2013 to April 2014.
Volvo Bus MD, Nick Page said: "We work with a number of key bodybuilders across our vehicle range and the Sunsundegui has always been popular with our customers. The partnership has been successful right across Europe and we're no different here in the UK and Ireland, as recent orders have highlighted."