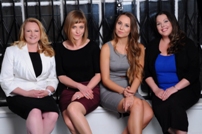 As part of its 25th anniversary celebrations, Anderson Travel has treated its female employees to a makeover day at a top venue in Covent Garden.
The coach firm supports and encourages female professionals in a sector which is typically deemed to be male dominated. To mark the increasing role ladiess are playing in the industry, the four women were offered a day out of their choice. They chose a day of pampering, having their hair and makeup done followed by a photo shoot.
Director of Anderson Travel Mark Anderson said: "In an industry with few women and some old habits, Anderson Travel has always tried to attract female talent as it's important to have a balance in personnel. We are passionate about the coach industry – it's an attractive career choice for women and it's important they are encouraged to participate in a traditionally male orientated trade. A 'Women in Rail' scheme was recently launched in the rail industry and a similar group would be of benefit to the coach sector.
"The industry isn't the most glamorous so to thank them for their continued hard work as we enjoy our 25th year of business, they indulged in something they enjoy – not a drab polyester suit in sight."
Sales & Marketing Manager Carly Eden who took part in the pamper day said: "As much as we all love our jobs, it was great to spend time leisurely getting glammed up and having our photo taken. As you can imagine, it was far removed from our usual day at work. I am proud to be one of the females working within the sector and would fully encourage other women to get involved."