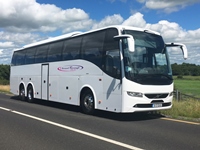 Family-owned and operated Bernard Kavanagh & Sons has taken delivery of six new Volvo B11R coaches. The Killkenny-based tour operator has acquired four Volvo integral B11R 9700s – two of which are 12.3m and the other two are 13m tri-axles – along with a pair of Jonckheere-bodied B11Rs to complement its expanding fleet. The latter are also equipped with side-mounted passenger lifts to comply with the DDA (Disability Discrimination Act).
Bernard Kavanagh, co-owner of Bernard Kavanagh & Sons, explained: "These Volvo coaches are an addition to our existing fleet of 60 which is currently more than 50% Volvo.
"We have been dealing with Volvo for many years and in doing so have built a strong relationship with the company which was key in influencing the decision to select Volvo coaches again.
"The Volvo B11R chassis provides us with excellent fuel economy, which is an important consideration for any coach operator, and along with the reliability based on our previous experience with Volvos, we were happy to specify these six vehicles in one go.
"With Volvo Bus you get the complete package. They are responsive and you have the reassurance of their dealer network. Working with our Volvo Retail Bus & Coach Sales Manager, Dave Porter, meant the whole process was as professional as ever from order through to delivery. In addition, we also know that we will get the aftersales service we require from our local Volvo dealership, Irish Commercials."
Dave Porter said: "The B11R chassis is well-known for its quality and technical specification for operators, as well as providing the high standard of service and comfort expected by today's coach traveller. We are delighted that Bernard Kavanagh chose Volvo again for their busy fleet.
"Volvo has a longstanding relationship with Bernard and his team, which made for a smooth and speedy process and we look forward to working with them again in the near future."
In operation since 1945, Bernard Kavangh & Sons Ltd is Ireland's largest private coach tour operator and runs the fleet from Urlingford, providing luxury modern coaches for touring work and international contracts.