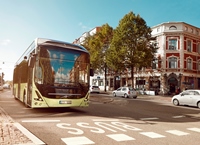 LUXEMBURG Sales-Lentz has ordered four Volvo 7900 Electric buses for operation in Differdange, south-western Luxemburg. Sales-Lentz, one of the largest operators in the country, was the first company to buy Volvo Hybrids in Europe as early as 2009. Today, it has 24 Volvo Hybrids and 12 Volvo Electric Hybrids in its fleet. Operation of the new vehicles is planned to start in the second quarter of 2017 and Volvo will be responsible for vehicle servicing including battery maintenance for a fixed monthly cost.
"With this new efficient technology developed by Volvo, Sales-Lentz promotes the ambition of the City of Differdange to build a sustainable change for the transportation of persons and improve the quality of life for citizens," said Wolfgang Schroeder, Managing Director, Sales-Lentz. "Change is the parent of progress."
"Electric bus systems are a cost-efficient solution for cities to reduce the problems of poor air quality and noise," added Håkan Agnevall, President Volvo Buses. "Emission-free, silent buses also open up entirely new possibilities for urban planning."
The buses will be charged with opportunity charging (fast charging at end stops). To facilitate the introduction of electric bus systems in European cities, Volvo together with several other manufacturers of buses and infrastructure agreed this spring to an open interface between electric buses and charging infrastructure. The system includes automatic contacting by a pantograph, wireless communication, contacting plates and infrastructure equipment that automatically contact vehicles with a pantograph.