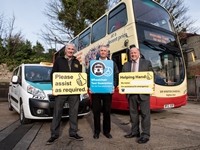 A scheme launched by Go-Ahead-owned Brighton & Hove Buses to make travel easier for disabled passengers – or any passengers requiring extra assistance – has been adopted citywide by the local taxi firm Streamline.
The 'Helping Hand' scheme assists passengers who may be wheelchair users, pregnant or elderly. An example of this is by providing a customised pocket-sized card with a simple message that can be shown discreetly to the driver. Messages include 'lower the ramp,' 'wait until seated,' or 'please assist as required.'
Brighton & Hove Streamline Chairman Dave Smith said: "We are delighted to have joined the Helping Hand scheme with the 'please assist as required' card. The scheme is very popular in the city and will be of great help to our customers."
'Helping Hand' was launched last year by Brighton and Hove Buses as an additional initiative in the company's programme to provide accessible travel throughout the city.
Brighton & Hove Buses Managing Director, Martin Harris, said: "Helping Hand has been extremely successful with over three thousands cards in circulation in the city.
"It's also supported by the local council and other bus operators."
Geraint Evans, Head of Mobility Services for Guide Dogs, added: "The work the bus company carries out to make travel accessible for visually impaired people is very important.
"We need to ensure it is safe, friendly and the considerations of disabled people should be high on the agenda.
"Brighton & Hove Bus Company's approach is very inclusive and engaging, and they really do make a genuine effort to listen to their customers and the organisations that support them."