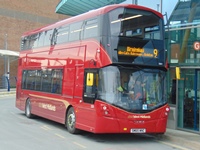 Operator supporting city council's initiative by acquiring only micro-hybrid buses this year
National Express West Midlands (NXWM) has welcomed moves to improve Birmingham's air quality.
Birmingham City Council is now installing ANPR (Automatic Number Plate Recognition) cameras on key routes into the city centre to capture data on emissions from commercial vehicles.
Colin Saward, Head of Engineering at NXWM, said: "The UK bus industry is leading the way on low-carbon, low-emissions vehicles. In 2015, we invested millions of pounds to buy 156 of the cleanest buses on the market – this year we'll be buying 100 more Euro 6 vehicles.
"A Euro 6 bus is 20 times cleaner than the old pre-1993 Euro 0 buses. By the end of the year, all our buses will be graded Euro 3 or better, and 60% of our fleet will be Euro 4 and above.
"We've had pollution experts come in to run real-world tests on our buses and they found the air inside our garages was cleaner than the air outside in the city."
All the buses NXWM will acquire this year will be micro-hybrids, fitted with 'smart electrics,' such as start/stop technology and electric cooling fans, which reduce fuel consumption.
Colin added: "We are very excited to be working with Birmingham Councillor Lisa Trickett on a hydrogen fuel bus project too. Hydrogen buses emit nothing but water into the air."
The Low Carbon Vehicle Partnership points out that nationally, 25% of all the buses bought in 2015 were low emission. Only 1% of the car market was low emission. According to Centro's 2015 West Midlands Travel Trends report, travelling by car emits 205 grams of carbon dioxide per passenger per kilometre, compared with only 110 for a bus and 73 on the Midland Metro trams.