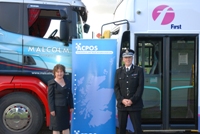 Memorandum of Understanding signed so the TC will receive written notifications at the time of offence
Police in Scotland and Traffic Commissioner (TC) Joan Aitken have joined forces to clamp down on the use of mobile phones by coach, bus and lorry drivers.
A clear link has been established between the use of mobile phones and other communication devices whilst driving and serious road crashes which cause severe injury or even death.
Deputy Chief Constable Tom Ewing for the Association of Chief Police Officers in Scotland (ACPOS) and the TC have signed a Memorandum of Understanding.
This formalises the process of Scottish Police Forces notifying the TC for Scotland of details of mobile phone offences committed by drivers of Large Goods Vehicles and Passenger Carrying Vehicles. Scottish Police Forces will forward written notification at the time of the offence to the TC. The written notification will include:
Conditional Offer Number;
Driver's name, address and date of birth;
Date and time of the offence;
Location of the offence; and
Offence committed.
The offences currently covered by the MOU are:
Use of hand held mobile phone or device while driving;
Use of hand held mobile phone or device while supervising a learner driver; and
Not in proper control of a vehicle or having full a view ahead (This offence relates to drivers' actions and can also be applied to use of a hands-free device where there is evidence that the driver does not have proper control of the vehicle).
With this notification, the TC will give consideration to further action against the driver and/or the company which may include the suspension of a LGV or PCV licence.
DCC Ewing of Fife Constabulary, who speaks on road policing for ACPOS, said: "The drivers of buses and lorries carry a huge responsibility to their companies and to other road users as they go about their daily business. The majority of these drivers are aware of these responsibilities and behave responsibly.
"The use of communication devices such as mobile phones is distracting and dangerous and the consequences of professional drivers carrying passengers or large loads losing concentration could be catastrophic.
"We are determined to clamp down on such use and welcome the support of the TC and two industry leaders."
Ms Aitken said: "Using a mobile phone – whether to take or make a call or text – is a road safety risk. Too many road traffic accidents are happening because the driver was on a phone call or checking texts. With professional drivers the risks can be greater given the weight of the vehicles and their loadings.
"Police officers can issue a financial penalty. My powers are different. I can suspend a driver's licence entitlement to drive his or her lorry or bus. For some drivers this will mean they lose their job and how they support their families. It is that serious. I also look at why the driver was on the phone. I want to get a message across to drivers' families and friends and also to employers that the driver needs to concentrate on the job not on the phone.
"I hope drivers and their families will come to realise that the risk of mobile phone use is not worth taking. I don't want to take professional drivers off the road or for them to lose their jobs or wages. I want them to drive safely.
"Last year 223 professional drivers were called before the TC for driving offences which included mobile phone use".
The launch of the MOU has been backed by First Bus and haulier the Malcolm Group.
Paul Thomas, MD of First Scotland East, said: "As a company we are committed to road and passenger safety, already having rigorous procedures in place. We welcome this agreement to assist in addressing this very serious issue and will continue to work with both parties going forward."