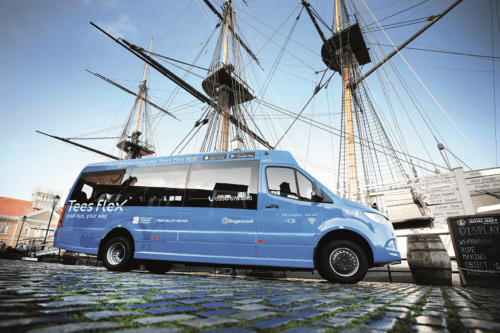 The Stagecoach-operated Tees Flex service, which was launched just before the pandemic, will continue following the extension of its trial period
It has been announced that the Tees Flex demand responsive bus service has been extended for a further 18 months. The service was launched in partnership with Stagecoach in 2020 as a three-year pilot, just a month before the UK was hit by the Covid-19 pandemic and subsequent lockdowns. The pilot will be extended under the same operating conditions and objectives, with zones and prices unchanged.
Tees Valley Mayor Ben Houchen said: "Following a review of the Tees Flex service I am pleased to be able to announce that I have taken the decision to extend it for another 18-month period. As we continue our programme of creating good-quality local jobs, it is important that we look at the wider picture and make sure that people living in more rural parts of Teesside, Darlington, and Hartlepool have the same access to these opportunities.
"Completely unbeknown to us at the time, we launched the pilot at the worst possible time due to the Covid-19 pandemic, and yet we still saw a significant amount of demand for the service. Having looked at the data I think it is the sensible decision to extend this trial so that we can see the true potential of demand responsive travel.
"It is unquestionable that Tees Flex is a lifeline to many people across our area and extending it is the right thing to do. I am pleased to give people across our area certainty of its future today."
Jonathan Dulston, Leader of Darlington Borough Council and Tees Valley Combined Authority Cabinet Lead for Transport, said: "This is a decision that I am 100% behind and it is great news for Darlington. The Tees Flex service has been hugely popular right across Darlington but particularly for people in places like Sadberge. The blue buses have connected people from across Darlington to jobs, shops, and leisure, not to mention to our International Airport. A better-connected Darlington is a more prosperous Darlington and I am glad that we have been able to keep the Tees Flex service going."