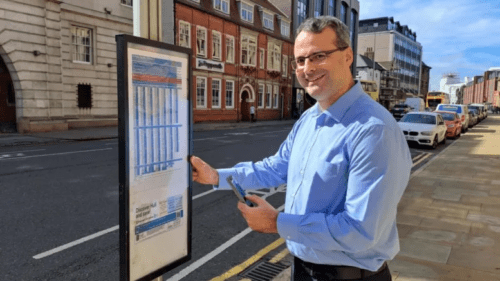 Hull City Council has upgraded its Omnibus timetable publicity systems, which it says will allow it to produce high-quality journey information more efficiently. Already a long-standing OmniStop user, the council has implemented 'OmniStopDesign,' a configurable template system which simplifies the creation of at-stop displays. The upgrade follows a public consultation which informed the city's Bus Service Improvement Plan (BSIP) and identified the need for easier to understand information, real-time bus information and user-friendly journey planning tools.
The council's Strategic Transport Manager Kerry Ryan said: "Hull has lower car ownership than many cities, as well as areas of high deprivation, making the use of buses paramount. Bus use in Hull is high, and we are always looking to remove any barriers people may face when accessing public transport.
"One of the aims of our BSIP is that OmniStopDesign will support us with is to provide passengers with easier to understand at-stop information, which is timely, accessible, informative and user-friendly. Having full design flexibility, the solution will be used to create tailored templates that fit the space available on the infrastructure. To assist with journey planning, we will take advantage of the ability to easily generate QR codes for each stop so that passengers have access to live real-time data for that stop from their smartphone.
"A large portion of my time is spent on creating bus stop displays. OmniStopDesign has the capability to allocate templates to specific stops and batch produce PDFs for all displays, greatly speeding up production time."
Founder of Omnibus Peter Crichton added: "We are delighted to provide Hull City Council with a solution which improves efficiency and enables them to offer their customers enhanced stop displays in line with its BSIP objectives."