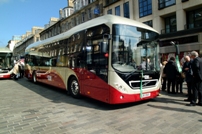 A launch event took place on Castle Street, Edinburgh on Saturday, April 13, as Lothian Buses took delivery of ten new Volvo 7900 hybrid buses.
The new Volvo 7900s are funded with the help of a £1.5m grant from the Scottish Green Bus Fund and will be operating on the number 1 route from Clermiston to Easter Road.
"Our vision is to provide world-class, socially inclusive transport for Scotland's capital city," said Ian Craig, Managing Director of Lothian Buses, welcoming the new fleet.
"As a company we are always looking for ways to offer greener and more sustainable travel, both for our passengers and the local environment. With the financial support from the Scottish Government we are delighted to continue to add to our existing green fleet."
The 7900Hs are specified with a Volvo D5F 4.8 litre 4 cylinder engine, rated at 215bhp and supported by a Volvo Electric Motor, rated at 120 kW, with a Volvo I-Shift gearbox, the 7900H combines a number of proven Volvo systems together. Taking advantage of the complete Volvo build, the hybrid battery and several of the systems and cooling circuits are roof-mounted. This increases internal space and also assists in optimising weight distribution. The vehicles also make use of the hybrid engine's 'stop start' feature, where the vehicle pulls away from the bus stop in pure electric mode.
"We successfully launched the 7900H single deck bus last year and Lothian Buses were one of the first operators to secure an order. It's nice to now see those vehicles delivered and entering service in Edinburgh. This is a hugely significant development for Volvo Bus in the UK and Ireland," commented Phil Owen, Volvo Bus Sales Director