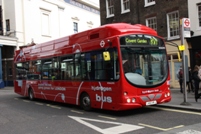 The group has effectively exited the capital as part of its ongoing strategy to reposition its UK Bus division
After months of speculation, FirstGroup announced the sale of eight of its London bus depots on April 9.
The garages at Alperton, Greenford, Hayes, Uxbridge and Willesden Junction, along with 494 vehicles and approximately 1,700 employees, will transfer to Metroline on completion of the sale for a gross consideration of £57.5m. Metroline is of course, an existing London bus operator and whollyowned subsidiary of Comfort DelGro Corporation Limited, a Singapore-incorporated transport group, which also owns London coach firm Westbus.
Atlas Road, Lea Interchange and Westbourne Park, along with 400 vehicles and 1,500 employees, will transfer to Transit Systems Group, an Australian transport firm, on completion of the sale for a gross consideration of £21.3m. Transit Systems, which will operate in the capital as Tower Transit, runs metropolitan bus contracts in the Australian cities of Perth, Sydney and Adelaide, comprising 1,000 buses and more than 2,000 employees. In addition, the firm claims it will be the only operator of hydrogen-powered Wright Pulsars in London.
Both disposals are subject to the necessary regulatory approvals including contractual obligations with TfL.
Asked to comment on speculation about the future of First's soon to be sole-remaining London garage, Dagenham, a FirstGroup spokesman told CBW: "The long term future of the depot is under review. There are several options available including exploring alternatives for sale of the property or incorporating the routes into First's nearby operations in Essex."
Giles Fearnley, First's Managing Director UK Bus, said: "Our strategy is to focus on those areas of the country which offer the greatest potential and while we have been a key operator in London for many years, our focus going forward is on the deregulated market outside of the capital.
"The decision is a business driven one and does not reflect on the effort, commitment or individual performance of our employees in London and we will be supporting them fully as they transfer to their new employers. Over the years we have enjoyed a constructive relationship with Transport for London and look forward to working closely with them to ensure this transfer goes ahead as smoothly as possible."
ComfortDelGro CEO Kua Hong Pak said: "We are naturally excited about the expansion of our business in London through this acquisition and will continue to work hard at providing a high quality of service to our customers."
Transit Systems CEO Clint Feuerherdt said: "We'll be taking best practice from all of our operating contracts, working successfully with Government and private companies, to ensure the transition is smooth and our service to passengers and Transport for London exceeds expectations."
This news coincides with FirstGroup's pre-close trading update for the year ended March 31, 2013.
The group said overall trading is in line with management's expectations and during the period it achieved steady growth with like-for-like passenger revenue expected to increase by 2.4% with full year operating margin to be approximately 8%. In addition, recovery programmes in First Student and UK Bus are on track while First Transit achieved strong contract performance and sale of Support Services, consistent with strategy to focus on core businesses.
Greyhound Express continues to expand, offsetting the impact of the weaker economy and there is continued strong passenger volume and revenue growth in UK Rail.
Tim O'Toole, Chief Executive, said: "Trading during the period is in line with our expectations. Although there remains significant work still to be done, we are satisfied with the progress made so far. While remaining cautious in respect of continued challenging economic conditions, we are confident the actions we are taking will position the business to generate sustainable growth and improved returns."