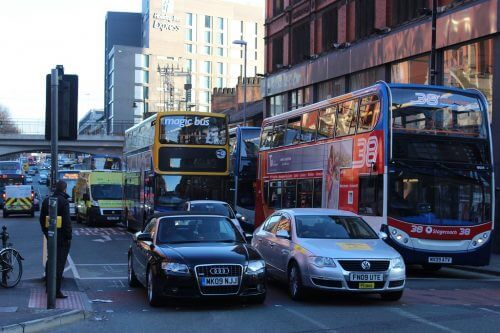 Transport for Greater Manchester (TfGM) has said it is conducting a wide-ranging market engagement exercise to test a potential approach to a proposed franchising scheme for the city-region.
The engagement is part of TfGM's ongoing work to prepare an assessment of a proposed franchising scheme for Greater Manchester, in line with the Bus Services Act 2017.
TfGM is undertaking the assessment on behalf of Greater Manchester Combined Authority (GMCA), but no final decision has yet been taken on how to reform the local bus market.
While preparing the assessment, TfGM has been in ongoing dialogue with bus operators to explore other 'realistic options' for improving local bus services, such as partnership proposals.
While partnership talks continue, TfGM is inviting bus operators to submit feedback on an initial suggested commercial approach to the current proposed franchising scheme.
In total, 35 local, national and international bus operators have been invited to give their views through a detailed questionnaire.
One-to-one meetings have been held with Greater Manchester's major bus operators to outline the approach, while smaller operators have been invited to group sessions.
The areas covered by the questionnaire issued this week include the proposed design and structure of franchises, commercial parameters, and the procurement process.
TfGM is aiming to refine its assessment by obtaining operator feedback on a potential commercial model for franchising.
TfGM said it has followed several guiding principles, including how the model would:
• Generate competition and reduce barriers to entry;
• Create an enduring market;
• Manage risk and drive value for money;
• Give enough flexibility to respond to changing demands; and
• Consider how small operators would have access to the market.
Michael Renshaw, Executive Director at TfGM, said: "Our work to prepare the assessment of a franchising scheme is underpinned by Greater Manchester's ambitions for bus to play a fuller role as part of an integrated transport system.
"This market engagement is an important stage in the ongoing dialogue we've kept with bus operators throughout the process.
"We've considered global best practice and we hope that testing our commercial approach and assumptions with the bus market will help to ensure that the final assessment is as robust as possible.
"We want to make sure that, if the proposed scheme is implemented, it would deliver tangible and enduring outcomes for passengers and the local economy."