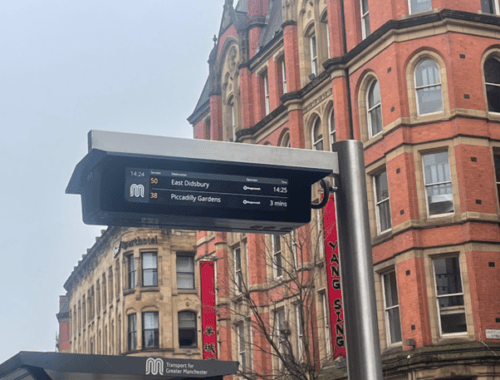 Transport for Greater Manchester (TfGM) is exploring new ways to provide bus passengers with real-time travel information as momentum towards delivering its integrated Bee Network builds. New digital passenger information displays are currently being tested in Manchester city centre as part of a pilot, with two further sites due to be added as part of a six-month evaluation and a prelude to a long-term plan to install electronic departure boards at key locations across the Greater Manchester bus network. TfGM is working alongside three suppliers of digital technology to test hardware and software, and is engaging customers and accessibility groups at the test sites to gather feedback and to allow for a better understanding of their requirements.
The funding to deliver the live displays has been allocated through Greater Manchester's £1.2bn City Region Sustainable Transport Settlement (CRSTS), in partnership with the Government. Transport Commissioner for Greater Manchester Vernon Everitt said: "Our plan for the integrated Bee Network includes world class safety and customer experience standards across all forms of public transport and active travel. Real-time travel information, audio-visual announcements and a new Bee Network app will play a key part delivering a joined-up system, and I am delighted that TfGM is working with market leaders to find the right solutions for the people and businesses of Greater Manchester."
TfGM has also been working with NHS partners to encourage public transport use amongst staff, patients and visitors at hospitals and GP surgeries throughout the region. Work is also progressing to install real-time bus departure screens at several hospitals in Greater Manchester, with the first live information displays expected to be operational in spring 2023 at Wigan Royal Infirmary, Wythenshawe Hospital and the Manchester Royal Infirmary. New dedicated webpages have also been created on the TfGM website to help facilitate patient travel, with the intention that links to those pages can also be included on patient appointment letters.
Sean Dyball, TfGM's Head of Customer Experience, said: "We know how important up-to-date and accurate travel information is to making the Bee Network accessible for everyone travelling in Greater Manchester. We will be delivering lots of improvements in the months ahead, and the feedback from our customers will be really important in helping us to continually improve our services."