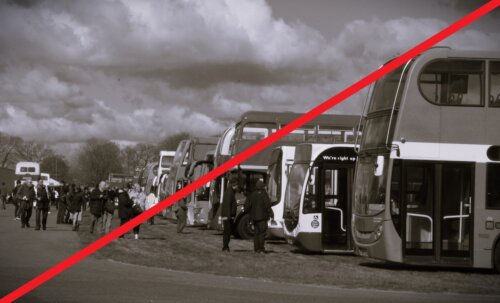 The organisers of this year's South East Bus Festival have announced with disappointment that the event, due to take place this Saturday (1 April), has had to be cancelled due to the showground being waterlogged.
The decision to cancel followed an inspection of the site by Kent County Agricultural Society, whose Heritage Transport Show includes the bus festival, which showed that the ground retained so much rainwater that the area where the buses would normally be displayed was too soft for heavy vehicles to park and that the public car parks on fields behind the showground were so waterlogged as to be unusable.
With further rain expected, cancellation of the event was the only option, the organisers concluded. Event co-organiser Richard Lewis said "We had hoped that the event could go ahead, possibly in a slightly different form, but the amount of rainwater retained on the site proved to be significant and was unlikely to drain or dry before this Saturday.
"A lot of work has been put into organising a great day for our exhibitors and visitors and we know that many will be as disappointed as us that the event will not go ahead. Having been receiving vehicle entries right up to today, bringing the total to more than 150, it looked as though there would be a substantial turn out on the day."
The event's organisers said that refunds of pre-paid admission tickets, sales-stand fees and advertisement costs for the souvenir programme will be available.