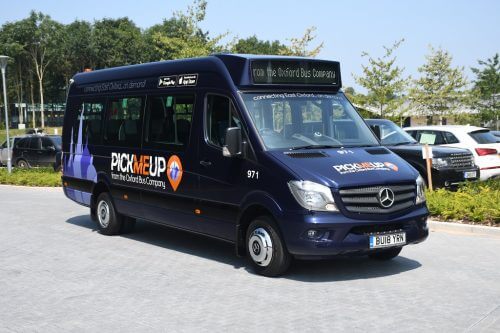 Transport for London (TfL) has launched a four-week consultation on plans to trial an 'on-demand' bus service in Sutton.
The service will let people or groups use an app to book seats on a minibus that will stop at more 'convenient' locations, including places that are currently not serviced by public transport.
The service is proposed to run from 0630hrs to 0930hrs, seven days a week, carrying up to 14 passengers.
The minibuses will also ensure a guaranteed seat, free WiFi and USB charging points.
The consultation is asking Londoners for their views on the specific areas of Sutton that the service should cover, as well as suggested stopping points.
The trial will last a year, enabling TfL to measure interest in the service and determine how it would exist alongside the current public transport network.
Sutton was chosen due to its high car dependency, and it is hoped that the service will help to reduce congestion and meet the Mayor's Ultra Low Emission Zone (ULEZ) standards.
In addition to using the app, passengers will also be able to book over the phone, and Freedom Passes will be accepted.
ViaVan and Go-Ahead have been chosen to operate the trial. A second trial is also being considered to provide further evidence on the initiative's viability.
Drivers for the service will receive the same pay and conditions as other London bus drivers, which includes the 'Licence for London'.
Michael Hurwitz, TfL's Director of Innovation, said: "We are always looking at how we can harness the latest technological developments in transport to improve the service for our customers. This trial will help us to understand if a demand-responsive service will support the objectives of the Mayor's Transport Strategy in reducing car dependency and if it can be deployed to support the established bus network."
Chris Snyder, CEO of ViaVan, said: "ViaVan's powerful technology is redefining mobility across Europe, seamlessly integrating with public transit infrastructure to provide fully on-demand and dynamic transportation solutions."
David Brown, CEO of The Go-Ahead Group, said: "As the operator of PickMeUp, the largest demand responsive service in the UK, we are delighted to work with TfL and ViaVan to help deliver this service to Sutton."
For more news click here:https://cbwmagazine.com/category/news/