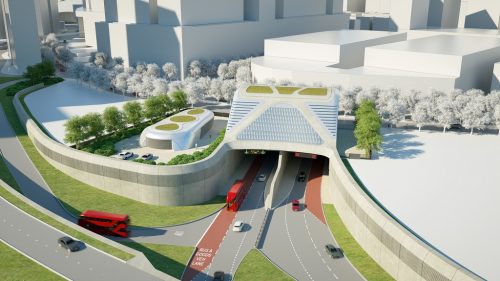 Transport for London (TfL) was last week granted a Development Consent Order (DCO) by the Department for Transport (DfT), allowing it to begin work on the Silvertown Tunnel.
Set to open in 2023, it's hoped the twin-bore tunnel under the Thames in east London will ease congestion at Blackwall Tunnel, improving the 'reliability and resilience' of the area's road network.
Currently, congestion around Blackwall Tunnel leads to around a million hours being wasted in queues every year, costing the economy an estimated £10m – three mile tailbacks can occur there in just six minutes in the event of a temporary closure.
Public transport connections across the river will be 'significantly improved' according to TfL, with up to 37 buses using the tunnel each hour – all of which will be either hybrid, electric or Euro VI diesel.
Improvements to pedestrian and cycling infrastructure will be made on both sides of the river; 'safe and attractive' new walking and cycling routes will be created around Royal Victoria and the Greenwich Peninsula.
The project is to be privately financed through a Design, Build, Finance and Maintain contract, with the successful delivery partner receiving payments from TfL once the tunnel is open and available for use.
Payments will be made partly through the implementation of a user charge on both the new tunnel and the existing Blackwall Tunnel – precise details of which will be decided closer to the opening date.
The Mayor of London, Sadiq Khan, said: "I'm delighted that the green light has been given to progress with the Silvertown Tunnel.
"New river crossings are vital for the future prosperity of east London, and the scheme will have a substantial impact unlocking new jobs and economic growth, while easing congestion and poor air quality in the area.
"Since I became Mayor I've been determined to ensure the Silvertown Tunnel doesn't have a detrimental impact on our environment.
"That's why the new plans have such a focus on cleaner transport, with only buses with the highest emission standard using the tunnel, and substantial investment in pedestrian and cycling infrastructure."
Mike Brown MVO, London's Transport Commissioner, commented: "East London is in desperate need of more river crossings to provide better public transport links across the Thames and support the delivery of new jobs and homes.
"Now that this nationally significant project has been given the go ahead, we are working closely with local boroughs and others to ensure this vital new infrastructure is delivered with minimal impact to local residents and businesses."
Infrastructure Director at London First, David Leam, added: "The Silvertown Tunnel is a vital piece of new infrastructure for London and can't come quickly enough.
"The existing crossing at Blackwall is a notorious congestion blackspot that can cause traffic paralysis across south east London.
"Silvertown is an essential part of TfL's plans to improve public transport in east London and vital to keeping the whole city moving."