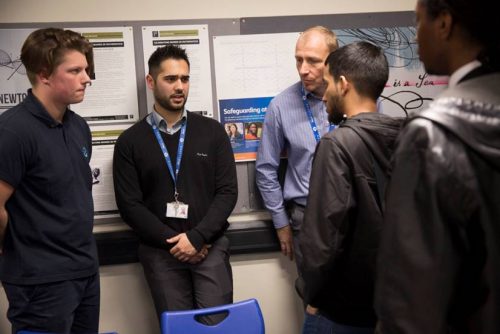 Transport for London (TfL), in partnership with housing association Peabody, is piloting a new pre-apprenticeship programme to help upskill young people, through employability skills sessions and the chance to gain work experience
The scheme's first intake, consisting of 16 people aged between 16 and 24 from across London, have already started the new programme. They heard about the different careers they can pursue in the transport industry, and listened to a range of speakers, including representatives from three of TfL's key suppliers, Stagecoach, KeolisAmey Docklands, and Ferrovial Agroman Laing O'Rourke.
The attendees come from a range of backgrounds, with some studying at college and others being patrons of Peabody. For many of them, this is the first time they will receive in-depth, practical advice about the working world. The sessions, which run over several weeks and are provided by Peabody at BSix College in Hackney, will focus on a range of topics. These include how to write an effective CV, presentation tips and how to identify strengths and weaknesses. There is also the option of additional support for studying mathematics for those who require it.
Attendees can put their newfound skills to the test in mock interviews. There is also the possibility for them to gain real-life work experience, as they can undertake a short work placement with one of the three suppliers during the programme. Stagecoach and KeolisAmey Docklands also offer those who successfully engage with the scheme the chance to be fast-tracked through to the final application stages for their apprenticeship schemes.
Dana Skelley OBE, Director of Asset Management and Head of the Graduate and Apprenticeship Board at TfL, said: "It's vital that we inspire young people from a range of backgrounds to consider a career in transport.
"By working with Peabody and our suppliers, we are doing just that. This programme will make sure that those taking part can put their best foot forward when starting their future career paths and will enable them to gain real experience in the industry and realise where their strengths lie."
Darren Roe, Stagecoach London Engineering Director, said: "We are looking for individuals that have an inquisitive mind and see a piece of technology and think, how does that work, how does that go in there and how does that fit?
"We are looking for those people who would have 'How stuff works' in their bookmark, or would not think twice about watching videos on YouTube to fill a void in their knowledge.
"There are 19 engineering directors in Stagecoach, all of whom started off as apprentices, so this is an apprenticeship where you can develop and progress. But we are not looking for engineers when we take on apprentices – we are looking for that someone special who we will develop them and teach how to be an engineer. We are doing just that by working with Peabody."