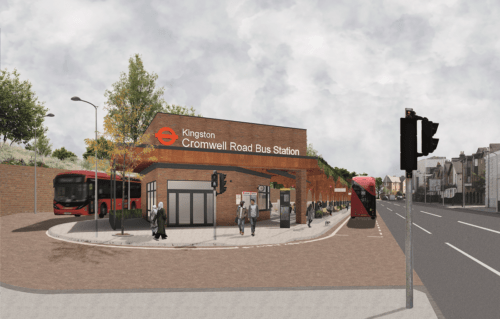 Transport for London (TfL) is set to start redevelopment work to provide a modernised and improved bus station in Kingston. The project will see the construction of new energy-efficient bus station buildings. A new canopy will provide protection against the weather across the station's entire waiting area and includes a 'green' canopy edge. Other features of the new bus station promise to make it much easier to travel by bus, with new amenities such as improved real time travel information screens, accessible toilets, improved LED lighting and CCTV, a new PA system and new retail units.
The development will also include a wider passenger island with more space for customers waiting for buses and moving around the bus station, as well as resurfaced pavements and improved drainage. During the works, buses will not stop in the bus station. Some will stop at new temporary stops a short walk away along Cromwell Road, while other services will be diverted as close to their original route as possible.
TfL's Director of Buses Louise Cheeseman said: "We're determined to make it even easier to use public transport in the capital and our work to transform Cromwell Road bus station is a key part of our plans to strengthen the network in Kingston. The new state-of-the-art bus station will be a significant improvement on the existing station and I'd like to thank people in the area for their patience as work is carried out. I'd encourage people using buses in the area to plan ahead and allow extra time for their journeys."
Portfolio Holder for Climate action and Sustainable Transport at the Royal Borough of Kingston upon Thames Cllr Manders added: "As the local train lines were designed just to travel to central London and back, buses are the only public transport system in the borough which really serves the locality. Cromwell Road bus station is essential for many residents to access the business, education, shopping and culture activities in Central Kingston. It is also an important interchange for many radial bus services and the nearby train station.
"Kingston Council welcomes the investment in new facilities to improve passengers' experience and accessibility and we appreciate that this will cause disruption to our residents in what is a very busy part of the road network. To that end we will work closely with TfL to ensure that the disruption is minimised and completion is done in a timely manner."