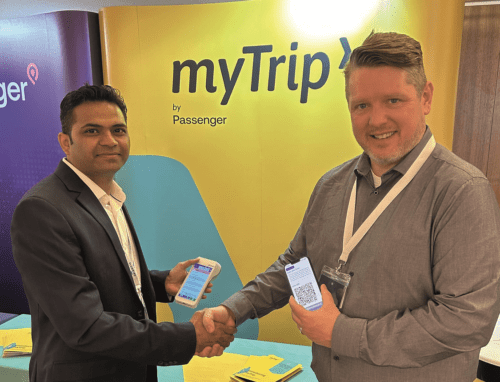 Following the launch of its own mobile ticketing QR schema in April, Passenger has announced its second successful roll-out with smart ticketing specialist TransMach for local bus operator NIBS Buses. The new QR schema has made it possible for Passenger's popular mobile app technology to interact securely with the operator's contactless ticket machines and validators supplied by TransMach; the ability to scan a QR code on mobile app tickets makes it easier for a driver to know whether a scanned ticket is valid.
Martin Massey, Commercial Manager at NIBS Buses, commented: "Adding QR scanning to our buses will reduce the need for our drivers to check mobile tickets being shown to them on the myTrip app, so we're delighted to roll this out. Passenger and TransMach developed this and we've simply been able to request they turn it on for us at no extra charge."
In developing the system, TransMach collaborated on the development with Passenger and implemented the schema within its TM920 hand-held and TM500 on-bus ETMs; NIBS uses the TM500 across its operations.
Product Manager at Passenger Dan Claydon added: "It's fantastic to see this initiative go from strength to strength. Developing technology to solve a problem and then quickly scaling it to other customers who have the same challenge is what we specialise in at Passenger. The capability was made available as a turn-key solution last month and already NIBS have adopted it. That's a fantastic result."
Transmach Director Minesh Vandra commented on the collaboration "By working closely with Passenger over the last six months, we've been able to offer this new mobile ticket scanning capability to NIBS. I'm delighted that we're able to offer additional value to our customers in this way."