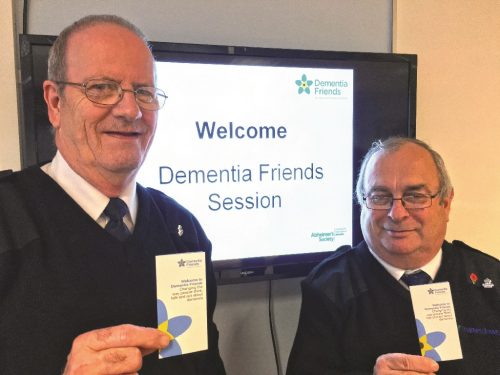 Over 50 Thamesdown Transport drivers have completed Dementia Friends training, since the Swindon-based operator signed up the Alzheimer's Society's campaign to raise awareness of how people are affected by living with dementia.
It also aims to educate people in ways to make their daily lives easier. The Thamesdown Dementia Friends can be spotted by the blue flower badge they wear.
Driver Instructors Paul Banham and Phil Bailey have been trained as special Dementia Champions.
The training covers the common difficulties people suffering from dementia experience, including memory loss, problems communicating and confusion about time and place, and what drivers should do in order to make travelling easier and a much less stressful experience.
Peter Oliver, Commercial Director at Thamesdown, commented: "All of our drivers are encouraged to sign up to be a Dementia Friend.
"Having Dementia can make people feel isolated and apprehensive about going outside and so our drivers can now spot the signs and make getting the bus easier, whether that's giving them the time they need to board or use their ticket, or identifying when someone might be confused due to their dementia and helping them get where they need to be."