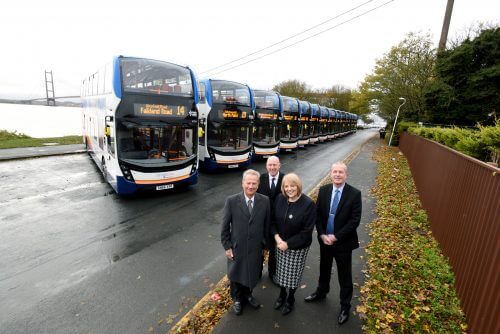 Stagecoach has invested £2.7m in a fleet of 15 new ADL Enviro400 MMC double-decker buses for Hull in readiness for the start of the 2017 City of Culture.
The new vehicles are now running on the popular Simplibus network joining main residential areas of Hull with Paragon Interchange through the heart of the city centre, which is currently being transformed by major public realm works. Fitted with Euro 6 engines, the buses have high backed E-Leather seats and USB charging points to ensure passengers ride in comfort and have power to all of their electronic devices.
Cutting through the traffic congestion using Hull's comprehensive network of bus lanes, Stagecoach is promoting local bus services as the smart way to travel into the city through a campaign of messages emblazoned across the back of each new bus, such as 'I'm not driving, no parking fees for me' and 'I'm not driving, I'm texting friends.'
Michelle Hargreaves, Managing Director for Stagecoach in Hull, commented: "We are tremendously proud that Hull has achieved City of Culture status and this huge investment in new buses shows our commitment to local people ahead of this important year.
"Coupled with smart ticketing, online payments, and a new smartphone app – along with the imminent introduction of Dayrider tickets available on mobile phones – these new buses demonstrate that Hull is a city that is delivering effective, modern public transport."
Cllr. Martin Mancey of Hull City Council said: "I am delighted to see that Stagecoach are investing in the most up-to-date buses which will not only offer greater comfort but also provide state-of-the-art facilities for their passengers.
"The high quality of these new buses will be immediately obvious, and my hope and expectation is that they will not only be greatly appreciated by existing users but also prove attractive to potential new users, encouraging more people to leave their car at home and travel by bus.
"I'm sure they will create a very good impression for the thousands of visitors that will arrive in the city for our City of Culture events next year."