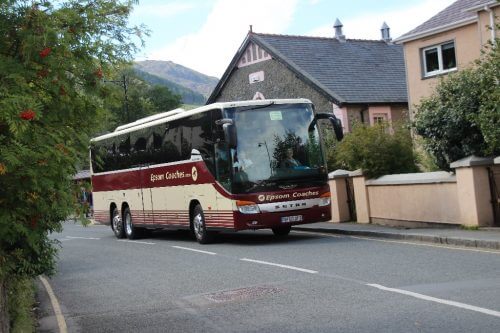 Epsom Coaches (EC) is to withdraw from the private hire and tour coaching market, with the remainder of the local bus and contract business adopting the name of Quality Line – hitherto the trading name of EC's bus division.
The firm's long-serving MD Steve Whiteway, is also to retire – his last day being Monday, June 25, and he will then be on three months' gardening leave.
The news of Epsom's coaching demise comes as part of changes by EC's owner, RATP Dev UK, which will see Quality Line brought under the direct management of RATP Dev London. With this change, all of RATP Dev UK's London bus operations – through its three subsidiaries London United, London Sovereign and Quality Line – will be run by RATP Dev London's leadership team. Under the new structure, Quality Line's existing TfL routes will continue to run from the Epsom depot, but RATP Dev will have a single interface with TfL to cover contract and account management, tendering and business development across all 10 of its London bus garages.
CBW understands London United's coaching arm, United Motor Coaches, is also to be shut down by summer.
EC's current local bus fleet totals 105, while EC's coach fleet includes 10 Setra S416GT-HDs, one Mercedes-Benz Tourismo M and three former National Express (NX) Caetano Levante-bodied Volvos, which carry Epsom livery and are used as NX spares. EC's NX contract work – which it is understood will continue – has a peak vehicle requirement of three.
CBW understands EC's order for four new 13m tri-axles Mercedes-Benz Tourismo Ms has been cancelled. The vehicles are set to be available for sale from Evobus UK in Coventry.
Tim Jackson, CEO of RATP Dev UK said: "I would like to thank Steve Whiteway, who is retiring in June after 37 years of service. Steve's dedication and leadership over the years has been the foundation for this successful business.
"In an increasingly competitive market, I'm confident that the closer integration of Quality Line into the RATP Dev London operation will enhance the company's competitiveness and create opportunity to develop it further.
"That should be good for its passengers, employees and local stakeholders."