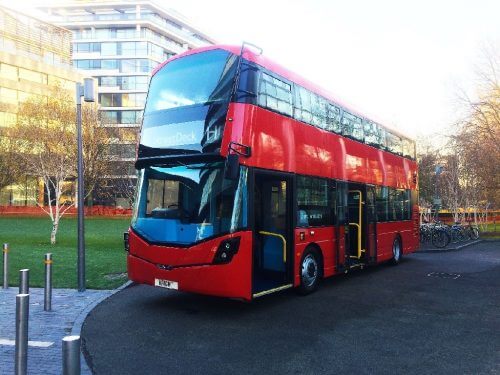 Wrightbus hydrogen fuel cell driveline technology will be production ready next year and can power both single and double-decker buses
The new Wrightbus zero-emission double-decker bus was launched at London's City Hall on Wednesday, November 30. It debuts a new hydrogen fuel cell driveline from the manufacturer.
The cell will be available when it is fully production ready next year, and will capable of powering both double and single decks.
The Northern Ireland company's new technology will provide a zero-emission drive system which encompasses a hydrogen fuel cell and a battery pack to power the vehicle. All of the hydrogen fuel cell vehicles will come equipped with an electric drive axle packaged to allow a full flat floor throughout the bus, a zero-emission heating/cooling system, the ability for overnight charging, and remote diagnostics.
Dr William Wright CBE, Co-Founder & Director of Wrights Group, said: "Wrightbus is a company where innovation and technology is at the core of everything we do, and we have led the way in the practical development of clean vehicle technology in buses over many years.
"This vehicle joins the recently launched StreetAir EV and brings an interesting new dimension to zero-emission bus technology offering transport operators a responsible choice to help address the world's environmental challenges."
Adding to Dr Wrights sentiment's, Wrights Group Chairman and CEO Mark Nodder OBE, said: "This exciting new zero-emissions driveline technology, developed with support from our partner Advanced Propulsion Centre UK (APC), is the pinnacle of our on-going work to deliver highly innovative buses with the best possible fuel consumption and environmental credentials that are supported throughout a long and productive operational life."