Go-Ahead Group company Brighton and Hove (B&H) has announced that it has the first buses in the UK that can be set to run in zero-emissions mode whenever they enter the city centre. For the first time, the extended range hybrid buses are equipped with geo-fencing technology that will ensure they switch to zero-emissions mode whenever they enter the city's Ultra Low Emissions Zone (ULEZ). This will both increase air quality, and also improve fuel efficiency in start-stop city traffic. The Enviro400ER buses are fully electric drive, topped up via regenerative braking and have a small Euro VI-compliant generator available when the bus is outside the zone. They will also feature cameras in place of traditional external mirrors.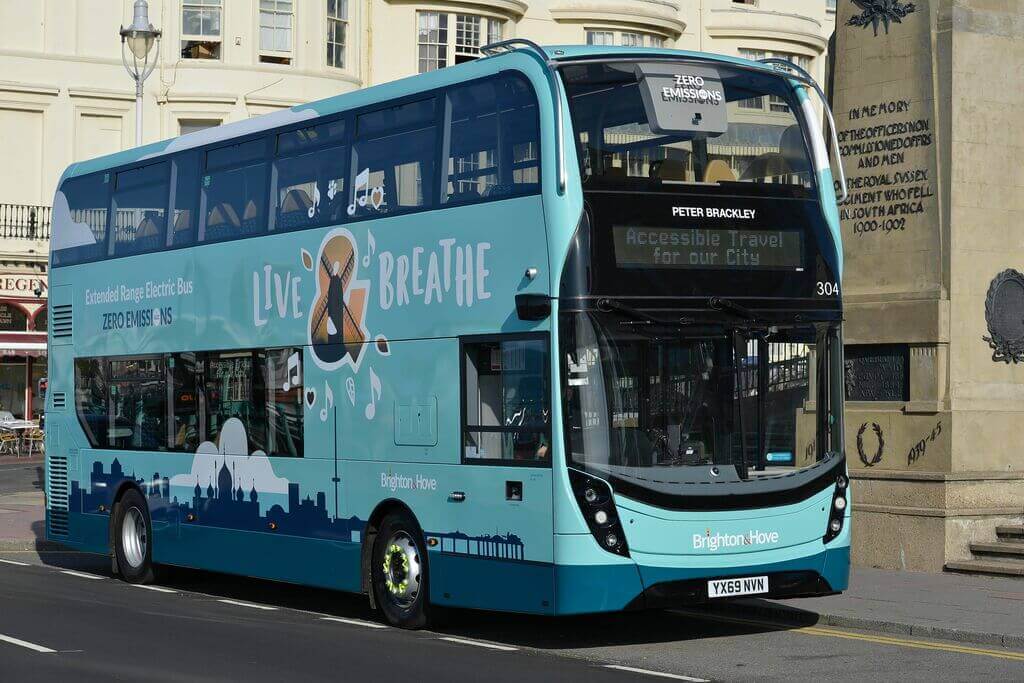 The new buses will be placed in service in October on busy route 5, which the company says will equate to 133,104 emissions-free miles in the ULEZ per year, which sees up to 24 route 5 buses per hour.
To make the buses stand out, they carry colours inspired by Brighton: the midnight blue silhouetted skyline and the dark teal of the sea, along with the pale green of the city's seaside arches.
Brighton & Hove Buses' Managing Director Martin Harris said: "We wanted these buses to reflect the city and the communities they serve. It's a tribute to Brighton life and to the people who live here. Our aim is to help improve air quality for everybody by continually cutting emissions and reducing our energy and fuel use. These new buses are an important part of our commitment to making Brighton & Hove a clean air city with zero emissions by 2030."
The buses form part of B&H's community environmental campaign 'Live & Breathe', which is promoted on the sides of each bus. Go-Ahead Chief Executive David Brown said: "Go-Ahead is proud to be leading the way on clean transport and this innovation moves us closer to our goal of operating a zero-emissions fleet nationwide by 2035.
"A double-decker bus can take as many as 75 cars off the roads in our cities and towns, so when it comes to improving the air quality and congestion in our cities buses are a vital part of the solution, especially with vehicles that can be set to run in zero-emissions mode in sensitive areas like these."