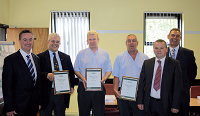 Three drivers rewarded for achieving top marks across the board by mystery shopper
It's been a triple-winning spring for Nottingham City Transport (NCT), as they announce the winners of their latest Seasonal Driver Award.
Andrew Careless from Nottingham City garage, Paul Harrison from Mapperley and Stephen Purdy from Hucknall, all achieved the maximum 100% from the mystery traveller who assessed them for customer service on the road, driving standards, and knowledge of their route.
"To take part in the award, drivers need to have had 100% attendance, always turn up on time, have no live disciplinary awards or blameworthy accidents on file, and a clean driving licence, so our three winners were already demonstrating their high standards by qualifying," explained NCT commercial manager, David Astill.
"This three-way tie for spring's winning spot, and their top marks, shows the excellence of our drivers and their ongoing commitment to providing the best service for our passengers. We're very proud of their achievement and delighted to present all three with their prize."
One of the winners, Andrew Careless, said: "It was a privilege to receive the award for something that I see as just doing my job."
The winning trio have each received a £100 cash prize and are also entered into the NCT Bus Driver of the Year Competition for a chance to win £1000 and an extra week's holiday.