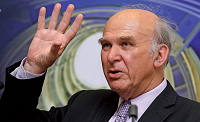 Banks are inherently monopolistic, says business secretary Vince Cable.
Britain's banking system needs an injection of genuine competition to end a "rip-off culture" ingrained in the existing market, Cable said last week.
He accused "monopolistic" banks of extracting "excess profit" from personal and business customers and will say it should be made easier for customers to switch banks and for new institutions to enter the market.
He also questioned an interim report by Sir John Vickers's Independent Commission on Banking (ICB), which said "firewalls" between retail and investment operations were the best way of protecting taxpayers from having to bail out failing banks.
Cable is known to favour full separation of the two divisions rather than just ring-fencing. He told a panel discussion organised by the consumer group Which? that the government is seeking "reassurance" from the ICB that its final report, due in September, will show how a ring-fence can be just as effective as full separation and at a lower cost. Cable said banks are "inherently monopolistic" and jointly administer what is effectively a "monopoly network" – the payments system.
"Pressure for more competition needs to be increased if we are to get banks to respond positively," said Cable. "The new Financial Conduct Authority must therefore have an explicit mandate to protect the interests of consumers and businesses: and it should do this through promoting competition, in parallel with the competition powers of the Office of Fair Trading.
"Competition is the best antidote to the 'rip-off' culture ingrained in the banks, extracting excess profit from personal and business customers."