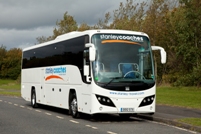 Stanley Travel has been awarded the Benchmark and Simply Safe accreditations by BUSK (Belt Up School Kids), the organisation which specialises in the safe transportation of children.
The operator gained six out of six stars in the Benchmark rating. In fact, a score of 53 was achieved when only 30 is needed for the top rating.
The award is being used by the firm to spread the message among schools that cost should not be the primary factor when choosing transport, as there are many other factors which need be considered.
Andrew Scott, Partner and Transport Manager, told CBW: "There's a tick list which sets out the criteria you need to meet and we ticked nearly every single box.
"Each criterion is weighted differently. For example, we scored highly in one area because we randomly breathalyse our drivers before trips.
"These accreditations are important as we are aiming to be part of the Guild of British Coach Operators. We also want to get the message out that the cheapest option isn't always the best. We might not be the cheapest but we have everything in place in the unlikely event of an accident. We're trying to get that message across to head teachers and parents."