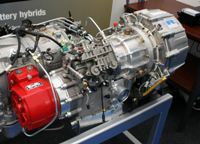 Concept proven, timing to market could meet new legislation for commercial vehicle fuel economy
Gearless traction drive company Torotrak PLC is progressing to the next stage in its programme with Allison Transmissions Inc for mid- to large-size commercial vehicles. The programme has proved the transmission's required performance on concept hardware. The next phase will develop prototypes of a fully representative production design.
Having completed an extensive process of knowledge transfer to Allison personnel, Allison Transmissions will lead the programme towards production while Torotrak provides ongoing specialist technical support and engineering consultancy.
Torotrak commercial director Jeremy Deering, said: "Torotrak has re-shaped its engineering delivery structure over the last six months to provide the most relevant support as programmes such as Allison's move closer towards commercialisation. Helping develop the production supply chain for important variable drive components, such as the discs, rollers and traction fluid, is as important to success as is the disciplined engineering staged approach and forensic attention to detail in planning. We are engaged with a number of suppliers with a view to establishing relationships to support Torotrak licensees."
The timing of the programme means Torotrak's technology could be part of the CV industry's response to growing legislative pressure to improve fuel economy. In the US, new regulations from the National Highway Traffic Safety Administration and the Environmental Protection Agency require heavy trucks to achieve fuel consumption and CO2 emissions savings of around 20% from the 2018 model year onwards. Affecting vehicles built and sold in 2017, commercial vehicle manufacturers must move quickly to ensure they have solutions in place.
Torotrak chief executive Dick Elsy, said: "Torotrak's variable drive technology can help manufacturers improve CV fuel-efficiency and emissions. We know Torotrak technology is most effective at saving fuel in vehicles with stopstart duty cycles, a big part of the commercial vehicle market. We have a proven technology with an appropriate timescale for introduction which can be implemented cost-effectively."
Part of Torotrak's strategy is to offer technology which can be implemented at a significantly lower cost and sit alongside more conventional transmission arrangements. Torotrak technology is being developed for use in a number of other vehicle systems to reduce CO2 emissions. The company's compact continuously variable transmission (CVT) is a key part of mechanical flywheel hybrid systems for cars and commercial vehicles. Work is underway with industry partners including Ricardo, Prodrive, Jaguar Land Rover and Optare in pre-competitive research projects to examine the viability of the technology for premium vehicles and buses.
Torotrak's Rotrak joint venture is developing a variable supercharger to ensure more economical, downsized engines, which form a significant part of CO2 strategies, yet still provide the driveability car buyers expect. Testing of the system is underway at Torotrak and talks with vehicle manufacturers and Tier One suppliers are in progress.
"Torotrak's technologies are based around the concept of simple variable devices to help recover and reduce waste energy or to enable more radical engine downsizing," said Deering. "This is helping position Torotrak in new markets and we are currently engaged with a number of Tier One suppliers and vehicle manufacturers looking for ways to meet stricter environmental targets."
The company's commercial progress is reflected in its improved financial position. Its half-year results showed a cash balance of £8.8m, up from £8.3m in 2010, strengthened by a £3.5m licence payment from Allison Transmissions.
Torotrak continues to conduct extensive testing and evaluation work for an unnamed European truck and bus manufacturer and has an ongoing licence agreement A Torotrak transmission incorporated in a mechanical hybrid application with Tata Motors.