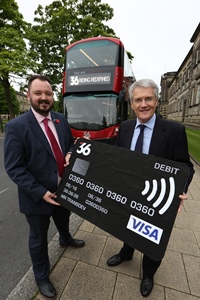 The service becomes one of the first outside London to utilise the new payment technology, with transport minister Andrew Jones attending the launch
Trandev has launched contactless payments on its number 36 bus service in Leeds.
Transport Minister Andrew Jones MP attended the launch, with the system going live on Saturday, June 11. The move makes the 36 one of the first bus services outside of London to offer contactless payments to its customers.
Contactless payment will be available as a mode to purchase all single, return and day tickets on the 36. Customers can swipe their contactless bank card to buy their tickets in a similar way to smartcard ticketing.
For the first month, passengers can also access a cheaper return ticket when using the new technology.
Alex Hornby, CEO for Transdev, said: "We want to make getting on board the bus as easy as possible, and bringing contactless payment to the 36 for our current and potential users is a no-brainer.
"This is all about making the 36 experience as effortless and as easy as possible, and ensuring we don't rest on our laurels even with the sector-leading standards we already offer on our highly specified buses between Leeds, Harrogate and Ripon.
"Once we have established the success of contactless on the 36, we will of course look to extend this further on other Transdev routes as we continue to innovate and do amazing things for our customers."
Andrew Jones MP said: "What a great step forward for bus travel.
"Contactless payments are growing in popularity and more and more contactless debit and credit cards are being issued every day. For small payments of everyday items it is a fast, convenient and safe way to pay.
"This is yet another improvement to the 36  and it is good to see such a popular service going from strength to strength."
The 36 runs every 15 minutes, utilising a £3.3m fleet of new Wrightbus Gemini 3-bodied Volvo B5TLs, offering free WIFI, USB power points, at seat tables, leather coach-style seating and a glazed roof on the top deck.
The standard £7.20 return fare will be reduced to £7.00 in the month of June when using contactless.