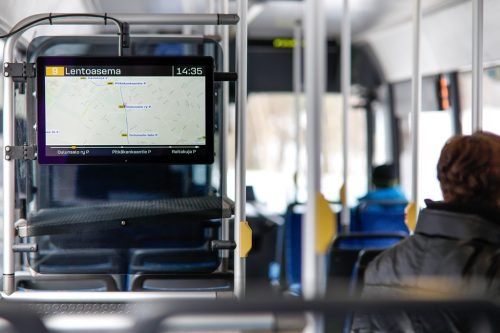 FINLAND As part of a pilot project initiated by the city authorities and Norwegian company FARA, passengers in Oulu in Finland can now see travel information on-board one of the buses, including real-time updates about their journey, exact location on maps, recent news stories and local updates.
Since 2015, FARA has supplied its SMART:myDrive fleet management system to the region, reducing average travel time and supporting an increase in use of public transport in Oulu. As part of the new pilot, FARA has delivered additional on-board infotainment displays and passenger counting sensors, using wireless interfaces and only little additional hardware.
"Today's passengers expect accurate real-time information, including status updates about their journey while travelling," said Ørjan Kirkefjord, CEO of FARA. "By combining the information the passengers need with the content they want, we have created a solution we hope will enhance the passengers' travel experience."
FARA's pilot includes two on-board screens installed at the front and the middle of the bus, and passenger counting sensors over the doors. These sensors track entering and exiting passengers, providing the real-time passenger load profile of the bus to the control centre.
The screens show the passengers targeted information based on the destination and bus location. This can include estimated arrival and transfer time at the various journey points, flight and train departures when en-route to the airport or railway station, exact location of the bus on a live map, recent news stories and local updates such as events and happenings. All content on the screens is controlled from the Oulu operations control centre.
"At FARA we are always excited to contribute to new projects that will make travel easy," said Ørjan. "We have a longstanding relationship with the city of Oulu and have previously delivered real-time information screens with live maps at the bus stops. We hope passengers will enjoy our new on-board solution as well."
In old Norse, FARA means 'to travel.' Founded in 2005, FARA is a customer-oriented technology company that aims to improve life quality, make the environment greener and meet passenger expectations, by making travel easier for the passenger, operator and transport authority. Its intelligent transport solutions aim to simplify use of public transport and improve operator performance. Solutions are modular, using open standard interfaces and commercial hardware that can be tailored to the customer needs, integrated into existing systems, or provide a full stand-alone solution.
FARA has over 14,000 installations, 19,000 bus drivers use FARA every day, and more than 306 million ticket transactions are made on FARA products every year.