Research conducted by Trent Barton found that 80% of customers have a contactless card
Trent Barton and sister company Kinchbus have announced they are to roll out what they describe as the UK's first 'truly tap-on tap-off' contactless payment system.
The two operators are investing a combined £2.5m in approximately 350 tap-on, tap-off terminals for their buses from UK supplier Ticketer, following a two-month trial on 11 Skylink Derby vehicles.
One in five customers opted to use the contactless facility during the trial, but research conducted by Trent Barton found that 80% of customers have a contactless card.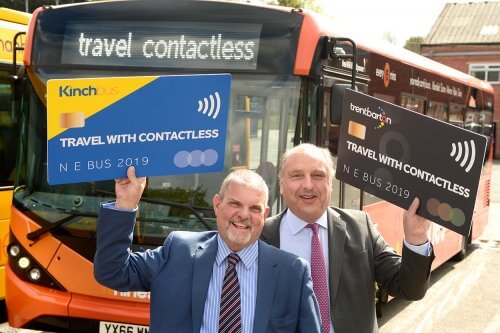 With the operators delivering a combined total of 40 million passenger journeys annually, a similar take up to that of the trial would result in over 20,000 contactless payments being made each day across the whole network.
"One in five is a huge number annually, but we only expect contactless to increase its share of payments over time," said Trent Barton and Kinchbus Managing Director Jeff Counsell.
"This is especially true for our system which, uniquely for a UK bus company, automatically charges the lowest possible fare given where customers get on and the stop they get off at.
This beats the flat charge levied by other operators.
"With daily and 28-day caps too, our customers will have confidence that they are getting the best possible value for money every time they tap on and off a Kinchbus or trentbarton service."
Kinchbus services will be first to see contactless rolled out across its fleet this summer, followed by Trent Barton by the autumn.
John Clarfelt, Managing Director of Ticketer, added: "We are delighted that the trial of our tap-on tap-off terminals, working together with Littlepay, was such a huge success for Trent Barton and Kinchbus.
"Our ticket machines are the first in the UK to guarantee passengers pay for their actual journey, rather than a pre-purchased ticket. They are also so easy to use, passengers simply tap on with their contactless credit or debit card, then tap off as they disembark.
"They no longer need to state their destination or ticket type to the driver. We are so pleased that yet another of our innovations is making it easier for everyone to travel by bus."