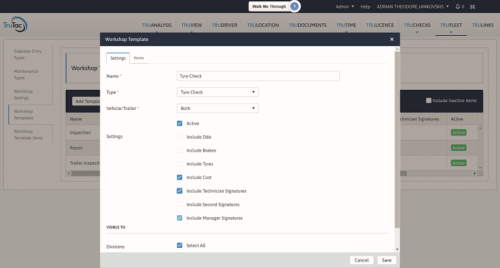 TruTac has launched a new software module which enhances its existing TruFleet vehicle maintenance and compliance product. Its new TruFleet Workshop offering enables users to upgrade to a range of new workshop-focussed features, including the facility to create bespoke templates for all vehicle needs including inspections, repairs, servicing, MOTs and associated running costs. Electronic periodic maintenance inspections (EPMIs) can all be controlled through the module, which has customisable templates which can be edited and cloned.
The software specialist says the new module can also help to improve audit trail transparency, and allows operators to choose sign-off levels with up to 3 independent signatures.
TruFleet Workshop integrates with the firm's other products including TruChecks and the TruTac driver app to identify and log defects, while recording the audit trail from identification to rectification. Costs can also be logged against each asset, with further new costing enhancements due to be released over the next few months.
"Our TruFleet vehicle maintenance product has proved to be a great success and is widely relied upon by fleet managers in the HGV and PSV sectors," said Managing Director Jemma James. "TruFleet brings efficiencies to day-to-day vehicle maintenance and helps to maintain compliance control. Now, based on feedback from our customers, we have introduced TruFleet Workshop so busy fleet managers can create bespoke vehicle documentation, focus on running costs and generally tighten up all areas of resource and vehicle asset management."