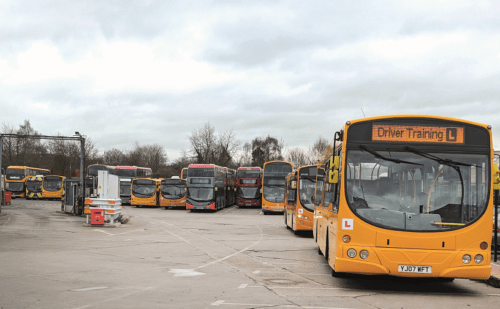 A series of reforms has been proposed by the Government to help attract new bus and coach drivers and retain existing ones
Changes proposed by the Government could help reduce the driver shortage and improve staff retention. Some of the proposed changes aim to help make it more affordable and more efficient for drivers to renew their qualifications or return to the industry.
A new consultation launched on 2 March proposes reforms to the Driver Certificate of Professional Competence (DCPC). The Government says that as a result of the UK's 'newfound freedoms' as a result of leaving the EU, it is exploring how to best improve DCPC to increase flexibility and choice for drivers to help safeguard road safety, and support the industry in retaining and recruiting staff.
Key changes proposed, include offering in parallel to the existing training format, which the Government says will be reformed, more flexibility with e-learning and a shorter 'new periodic test' which it says could save employees time and companies up to £460 per test in early estimates. Under the Governmant's plans, it says that reforms to training as well as the new cheaper and shorter periodic test will offer an accelerated route for former drivers to return to the sector more easily.
Roads Minister Richard Holden said: "Lorry, bus and coach drivers are some of our economy's unsung heroes, keeping our goods flowing and ensuring people can hop on the bus to access shops, schools, hospitals and all the essential services they need. That's why we must look at how we can support the continued growth of this industry.
"These reforms are yet another example of how we can make the most of our Brexit freedoms to make lorry and bus driver training, in some cases, cheaper and more proportionate so we can retain and attract more people to the sector and continue to grow our resilient supply chain."
The DCPC requires 35 hours of training every five years, which the Government says can cost up to £500 for each individual course, while the industry has raised concerns that in its current form the qualification is making it more difficult to retain and attract drivers to the sector, with high costs, poor flexibility and extended length of training among the main barriers to progress.
The proposed new periodic test will be delivered by the Driver and Vehicle Standards Agency (DVSA) and will continue to meet existing training standards. If implemented, reforms will establish a National DCPC for use in Great Britain and potentially Northern Ireland. The existing regime, the International DCPC, will remain for travel to, from or within the EU and will continue to be recognised for journeys within the UK; drivers driving into the EU would therefore still require the full DCPC for international journeys.
Graham Vidler, Chief Executive of the Confederation of Passenger Transport, said: "We welcome the Department of Transport listening to bus and coach operators' calls for a package of policies to improve driver recruitment and retention. The consultation to simplify the Driver Certificate of Professional Competence renewal process is a positive step and we will work with CPT members to develop our response."
RHA Coaches chair and Managing Partner of Anthony's Travel Richard Bamber said: "We have long called for Government to reform Driver CPC and will be examining the detail of the proposals. The consultation options include the potential for more flexible training options, and a shorter 'new periodic test' which could reduce time and cost for firms and drivers.
"Many of our members across the haulage and coach sectors say the current Driver CPC arrangements are a barrier to recruiting and retaining drivers. We welcome the news that DfT is consulting on proposed DCPC reform to offer more choice and flexibility for drivers. This is a key priority for us as we continue to look for ways to tackle skills shortages in the transport sector."
The consultation period on the proposed changes runs until 27 April.