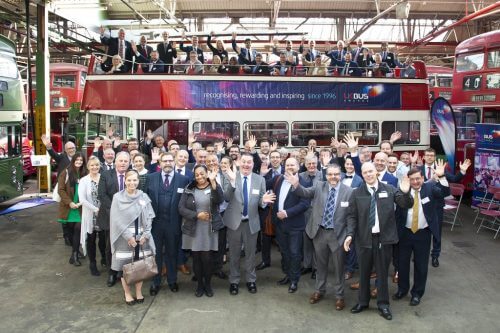 Announcement made at Museum of Transport in Greater Manchester ahead of ceremony on November 2
The UK Bus Awards' live Finalist Announcement took place at the Museum of Transport, Greater Manchester earlier this month. The event showcased outstanding individuals and teams from all corners of Great Britain that have reached the final of the UK Bus Awards 2017.
The Finalist Announcement sees over 100 projects and people recognised across 19 categories, from Top National Bus Driver, to the New Horizons award. The winners will be announced on November 21 at the Troxy venue in London's East End, where BBC News presenter Jane Hill will host the ceremony.
Mark Yexley, Chairman for the UK Bus Awards, said: "We have some truly inspirational people working in our industry, leading innovation and outstanding improvements in the customer experience. They show unrivalled commitment in delivering a first-class service day in, day out. We're very proud to be able to recognise and reward these people and initiatives that really make a difference.
"Our Finalists' Announcement is a very special day for all those involved, it's been great to visit the North West, and what a great setting to be able to celebrate the people, projects and organisations that will shape the industry of the future."
The full list of this year's finalists can be found below:
Bus and the Community Award
 Arriva London, Payroll Giving
 Arriva Midlands – Telford Depot, Dementia Awareness
 Arriva Midlands – Luton Depot, Commitment to Luton
 Bath Bus Company with Industry Colleagues, Imberbus
 First Eastern Counties, Titan Partnership
 RATP Dev London – Tolworth Bus Garage, Working with Young Offenders
 Stagecoach West Scotland, Youth Express
Engineer of the Year
 Paul Branigan, First Scotland East & Midland Bluebird
 Colin Close, Arriva North East
 Kerry Cousins, Nottingham City Transport
 Peter Graybrook, Arriva Midlands
 Paul Hickinbottom, Arriva Midlands
 Steve Martin, National Express West Midlands
Environment Award
 The Big Lemon Community Interest Company
 First Bus, A Cleaner and Greener Fleet
 First York, York Park & Ride Electric Buses
 Go-Ahead London, Electric Buses
 Lothian Buses, Bus 2020
 Nottingham City Council, Electrification of Park & Ride Services
Transport for London Award for London Bus Garage of the Year
 Barking, Stagecoach London
 Brixton, Arriva London South
 Sutton, Go-Ahead London
 Twickenham, Abellio London
 Willesden, Metroline Travel Limited
Leadership & Inspiration Award
 Anthony Carver-Smith, Nottingham City Transport
 Stephen King, Go North East
 Mariusz Przybylski, Abellio London
 Jim Small, RATP Dev London
Making Buses a Better Choice: the Peter Huntley Memorial Award
 Arriva Midlands, Arriva Busway Services
 First Manchester and Partners, Vantage
 Metrobus, Doing more for less in Surrey
 Nottingham City Council, Robin Hood Network Smart Ticketing
 Reading Buses, Orange and Royal Blue reinvigorated
 Stagecoach Midlands, Improving out of town employment sites in partnership with Liftshare
 Transport for London, London's Bus Priority Programme
The Award for Marketing Initiative of the Year
 Arriva UK Bus, Get Your Ride On
 First Glasgow, Glasgow Airport Express
 First West of England, Beat the Rise – mTicket campaign
 Go North East, £1 flat fare for 18s and under
 National Express West Midlands, Sandwell and Dudley low-fare zone
 Nottingham City Council, Ellie the Electric Bus and friends
 Stagecoach MCSL, Come on you red men!
New Horizons Award
 Arriva plc, ArrivaClick
 Passenger Technology Group, "Passenger"
 RATP Dev UK, Slide Bristol
 Reading Buses, Technology and innovation to make the bus best
 Transdev Blazefield, VAMOOZ
Putting Passengers First
 Go North East, £1 flat fare for 18s and under
 Nottingham City Council, Robin Hood Network Smart Ticketing
 Translink, Belfast Airport Express
 Yellow Buses, Passenger App and One Hour Ticket
ROSCO Award for Innovation in Road Safety
 RATP Dev UK, Route risk assessment maps at Stamford Brook garage
 Xplore Dundee, 'A Stone's Throw Away' safety film
The Award for Sustained Marketing Excellence
 Brighton & Hove Bus and Coach Company, Bus Times 30th Anniversary
 Go South Coast (morebus), Purbeck Breezer
 Stagecoach Cumbria & North Lancashire, 'Lakes Connection' 555 service
 Stagecoach East Scotland, Express City Connect
 South Yorkshire Passenger Transport Executive, Busboost
 Transdev Blazefield, 36: Riding. Redefined
Top City Operator
 Arriva Merseyside
 Brighton & Hove Bus and Coach Company
 Lothian Buses
 National Express West Midlands
 Stagecoach Manchester
Top National Bus Driver: the Chris Moyes Memorial Award
 Neil Atherton, Arriva North West and Wales
 Dale French, Transdev Blazefield
 Phil Hadley, Brighton & Hove Bus and Coach Company
 Brett Haskett, Arriva Midlands
 Jayson Heath, Kinchbus
 Maks Pruszewicz, Reading Buses
 Sean Thomas, Arriva Midlands
Top Independent Operator
 Central Buses
 Ensign Bus Company
 Marshalls of Sutton on Trent
 Prentice Coaches
 Stephensons of Essex
Luke Rees Pulley Charitable Trust Award for Top London Bus Driver
 Sabatino Barbarino, Abellio London
 Altin Cana, RATP Dev London
 Eric Forde, RATP Dev UK
 Michael Francis, Metroline
 Clement Grant, Arriva London
 Tina Lee, Stagecoach London
 Oliver Salbris, Go-Ahead London
 Helen Webster, Arriva London
 Peter Whiteman, Go-Ahead London
Top National Bus Depot
 Luton, Arriva Midlands
 Shrewsbury, Arriva Midlands
 Eastleigh, Go South Coast (Bluestar)
 Falls Road, Metro (CityBus)
 Crawley, Metrobus
 St Andrews, Stagecoach East Scotland
Top Shire Operator
 Blackpool Transport Services
 Go South Coast
 Oxford Bus Company
 Stagecoach East Scotland
Unsung Heroes Award
 Martin Brand, First Glasgow
 Ashley Burrows, Brighton & Hove Bus and Coach Company
 Chris Leonti, Arriva London
 Lynne Nappin, Arriva Midlands
 Chris Plummer, Trent Barton
 Stuart Roughley, Stagecoach Manchester
 Neil Roughton, Arriva Midlands
 Jeff Stubbs, Go South Coast (Bluestar)
Young Manager of the Year
 Dan Bassett, Reading Buses
 Paul Hickinbottom, Arriva Midlands
 Mark Mageean, Stagecoach Manchester
 Ben Mansfield, Transdev Blazefield
 Dean O'Neill, RATP Dev London