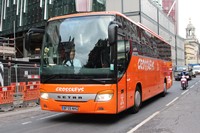 Total of 45 companies and individuals shortlisted for event, which takes place on April 21
The UK Coach Awards has announced the list of finalists for its 2016 competition, with judges praising the quality and commitment demonstrated by all the people, projects and organisations which have made it to the final stages.
The list comprises a total of 45 companies or individuals, across 12 categories covering a whole range of activities involved in the planning, promotion and operation of coach services. The final results, including the winners of four other awards, will be announced at the Annual Presentation Ceremony compered once again by BBC weather presenter Carol Kirkwood, which will take place at the Mercure Piccadilly Hotel in Manchester on Thursday, April 21.
UK Coach Awards Chairman, Allan Edmondson, commented: "Our awards are designed to seek out excellence and good practice at all levels in the industry, in all types of work, and amongst all operators from the very small to the large corporate organisations.
"I am delighted that we have succeeded once more, and that all sizes of company are represented in this year's list of finalists. When deciding on the winners, it's what you do and how you do it that matters, not how big or small you are."
The judging was undertaken by an independent panel of nine people with intimate knowledge of coach operations, marketing and tourism.
Allan continued: "We're most grateful to the judging panel: there was a lot of work involved and some really difficult decisions to make in what was a very strong field.
"We know how complex and demanding the job really is, and it's really great to be able to recognise quality and success when we see it."
The full shortlist is as follows:
Best Coach Industry Brand
Brand Anthony's, Anthony's Travel;
Transport Suppliers to Education across Greater Manchester, Belle Vue Manchester; and
BusyBus Holdings, BusyBus.
Coach Industry Website of the Year
busybus.co.uk, BusyBus;
shearings.com, Shearings Holidays; and
thekingsferry.co.uk, The Kings Ferry.
Coach Marketing Award
Think globally act locally, Anthony's Travel;
Belle Vue Brokerage & Conference Event Transport Management, Belle Vue Manchester;
Bury Market;
Bard On Board, Johnsons Coach & Bus Travel;
Shearings Holidays; and
The Kings Ferry.
Coach Travel Programme Award
AW Eastons Coaches;
Edwards Coaches;
Great Britain by Coach, Air and Sea, Epsom Coaches;
2016 Travel Programme, Gardiners NMC;
Summer 2015, Johnsons Coach & Bus Travel;
Shearings Holidays 2016; and
UK & Continental Coach & Air Holidays, Woods Travel.
Making Coaches a Better Choice
RailAir, First Hampshire, Dorset & Berkshre;
Nantwich Coach Welcome Scheme, Nantwich Town Council; and
A vehicle for change, National Express.
Top UK Coach Driver
Mark Pierce, Anthony's Travel;
John Gilbody, Belle Vue Manchester;
Steve Rudman, Cairngorm Travel;
Glyn Bowden, Edwards Coaches; and
Brian Davis, Motts Travel.
Top Express Operation
X90, Oxford Bus Company; and
Express City Connect, Stagecoach East Scotland.
Top Large Fleet Operator
National Express;
Shearings Holidays;
The Kings Ferry; and
York Pullman.
Top Medium Fleet Operator
Alfa Coaches;
Belle Vue Manchester;
Crosskeys Coaches; and
Maynes Coaches of Buckie.
Top Small Fleet Operator
Anthony's Travel;
Carol Peters Travel; and
Woods Travel.
Unsung Heroes
Donna Thompson, Belle Vue Manchester;
Shannon Meakin, Belle Vue Manchester; and
Steve Way, National Express.
Young Coach Industry Professional
Ben Bhattal, The Kings Ferry; and
Kevin Walker, York Pullman.
Winners of the Customer Service Award, Services to the Coach Industry, ROSCO Award for Safety Innovation and UK Coach Operator of the Year (selected from the winners of the top small, medium and large fleet operator awards) will be announced on the day.
INFO
For more on the awards, visit www.ukcoachawards.co.uk