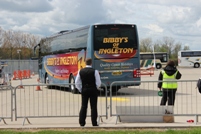 Rally and Awards to move to Alton Towers. Combined weekend hailed as new platform to promote UK coach industry
The organisers of two of the coach industry's premier events have announced plans to join together to produce a single event for 2013.
The UK Coach Rally and the UK Coach Awards Presentation Ceremony will be run as a single event for 2013 at a brand new and exciting venue, delivering a new and compelling date in the industry calendar. It will be designed to promote coaches and coaching, and to get each new holiday season off in style. Industry networking, trade and vehicle displays, a great social event and a true celebration of all that's best in the industry will all be firmly on the agenda at the combined event.
The UK Coach Rally and Awards will take place shortly after Easter 2013, which it is understood will be the weekend of April 20 – 21. Full details are due to be announced at a press launch on Thursday, November 1.
Steve Telling, Director of rally company Coach Displays, said: "Combining these two wellestablished and prestigious events will create a unique showcase for the UK coaching industry in the 21st century."
Allan Edmondson, Chairman of the UK Coach Awards, is also enthusiastic about the joint event. "We believe combining the Coach Rally with the Awards makes sense on so many levels. We're taking the best of both to make something very special, and our new venue will be really exciting."
For almost 60 years, the UK Coach Rally has provided a forum in which the very best in the industry can be celebrated: whether it's vehicle presentation and design, driving skills or vehicle preservation, the UK Coach Rally champions the highest standards, and rewards their achievement.
The UK Coach Awards are designed to recognise and reward quality and success in the UK coach and coach tourism industry; to promote coaching, to inform customers about quality and success and to inspire others to follow the winners' examples.
Giving his reaction to the news, Chris Bibby from loyal rally supporters Bibbys of Ingleton told CBW: "It makes sense for the rally as we'll hopefully get more people visiting and exhibiting. It needed to be done as Peterborough wasn't attracting operators in the numbers required to make it sustainable.
"It will be interesting to see who will make the journey to Alton Towers. We'll certainly be there – let's hope people back it. Going to Alton Towers will hopefully attract new operators from the North West and Midlands."
His father Peter added: "We've been to Southampton, Wolverhampton, Blackpool, Brighton and Peterborough over the years – it really doesn't bother us. We go, have a good weekend and come home.
"Alton Towers is in the middle of the UK – operators regularly run day trips day trips from Glasgow. We will be able to set off from here on a Saturday morning rather than a Friday night, thus saving a night's B&B."
Roger Mott, MD at Mott's Travel: "I was happy with Peterborough but I understand it was not for everyone. It was easily accessible from the north, east, south and west. It was also a good venue. I particularly liked the layout of the vehicles this year.
"I was happy with Brighton too. While it was a nice place to go, it was too far for those from the north. I also understand all too well the lack of enthusiasm for coaches in the city.
"As for whether we'll be at Alton Towers, I shall await to hear the full details and then discuss it with my team here."
Welcoming the news, Dave Parry from Parrys International said: "It needed a change of venue. There are two hotels at Alton Towers, so I presume everyone will stay there together, so the vital social element will be dealt with. It then boils down to the displays and the driving.
"I also feel it needs modernising – a change of venue should spark some enthusiasm."
Andy Nixon, General Manager at Clarkes of London, was also enthusiastic. He said: "I think we will probably enter the rally – we've got some new vehicles coming online. If a discounted entry to the park can be arranged, it could make it a weekend retreat for the all-important family element which can only be a positive thing."