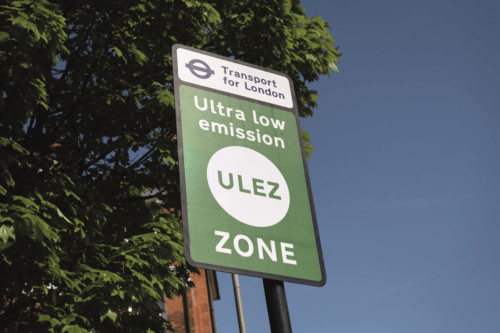 The expanded ULEZ is to be complemented by what TfL says is the biggest ever expansion of the bus network in outer London  
Mayor of London Sadiq Khan has announced that the city will expand its ultra low emission zone (ULEZ) London-wide to tackle the threats of air pollution, the climate emergency and congestion, and to provide cleaner air to five million more Londoners. The expansion will come into effect on Tuesday 29 August 2023 and will operate across all London boroughs up to the existing low emission zone boundary.
The Mayor said that the ULEZ has already been 'hugely successful' in central and inner London, helping to reduce roadside pollution levels by 44% in central London and 20% in inner London. He added that he is doing all he can to support Londoners through the cost-of-living crisis, and as part of those efforts the new ULEZ will be accompanied by a £110m scrappage scheme to support Londoners on lower incomes, disabled residents, charities, small businesses and sole traders, as a result of feedback from the consultation process. Successful scrappage applicants will receive a grant to scrap or – for the first time – retrofit their vehicle for certain vans and minibuses. Successful car owners can opt to receive a smaller grant accompanied by up to two free annual bus and tram passes.
The Mayor also announced new measures including extending the existing exemption periods for London's community transport minibuses run by not-for-profit organisations to October 2025.
To maximise the potential benefits of expanding the ULEZ and strengthen alternatives to private cars, the Mayor has also announced a plan for improving the bus network in outer London. Two new routes will be introduced in Sutton, with improved service to the new cancer centre at the Royal Marsden Hospital. In east London, and subject to consultation, new zero-emission cross-river services will be introduced, including a new high-frequency, limited stop service between Grove Park and Canary Wharf, and an extension to route 129 (Lewisham-North Greenwich) north across the river to Great Eastern Quay via the Royal Docks.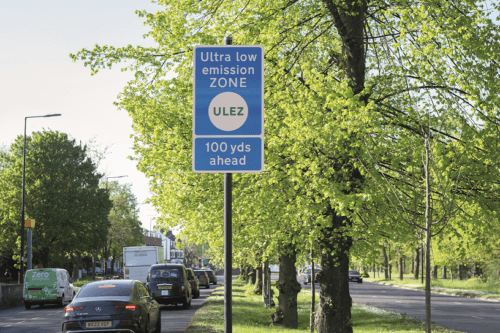 New services and improvements that will see over one million further kilometres added to the bus network are also planned to support growth areas in a number of other outer London location. This is part of what the Mayor says is the biggest ever expansion of the bus network in outer London, and includes: improved links between Harold Hill and Upminster in Havering; new and improved services at Brent Cross in Barnet; improved services in Southall; bus improvements in the Harrow & Wealdstone area; new routes to serve the Haringey Heartlands development at Wood Green; and better bus links in Wanstead, including to and from Whipps Cross Hospital.
Expanding the ULEZ London-wide is predicted to save 27,000 tonnes of CO2 in outer London, nearly double that which the central London ULEZ achieved in its first year of operation. The expansion is also forecast to make further progress to reduce air pollution, by reducing nitrogen oxide (NOx) emissions from cars and vans in outer London by 10% and 7% respectively, and reducing PM2.5 car exhaust emissions in outer London by nearly 16%. Compliance within the current ULEZ area is now reported to be 94%.
Mayor Khan said: "The latest evidence shows that air pollution is making us sick from cradle to the grave. Londoners are developing life-changing illnesses, such as cancer, lung disease, dementia and asthma. And it's especially dangerous for children due to the long-lasting impact on their health and life chances, with kids in our city growing up with stunted lungs.
"The ULEZ so far has been transformational, reducing harmful pollution levels by almost a half in central London. But there is still far too much toxic air pollution permanently damaging the health of young Londoners and leading to thousands of early deaths every year, with the greatest number of deaths in the outer London boroughs. Expanding the ULEZ London-wide will mean five million more people will be able to breathe cleaner air and live healthier lives.
"All the money raised by ULEZ will be pumped back into funding local public transport and I'm pleased to announce today that we are planning the biggest ever expansion of the bus network in outer London. Expanding the ULEZ London-wide has not been an easy decision. The easy thing for me would have been to kick the can down the road. But in the end, public health comes before political expediency. We have too often seen measures delayed around the world to tackle air pollution and the climate crisis because it's viewed as being too hard or politically inconvenient. But there's no time to waste when people's lives are on the line and we are facing a climate crisis. As mayor, I'm not willing to turn a blind eye because it's clear the cost of inaction – to our economy, to livelihoods, to the environment and the health of Londoners – would be a far too high a price to pay. Expanding ULEZ is the right choice for our city and something that I know will help us to continue building a better, greener, fairer and healthier London for everyone."