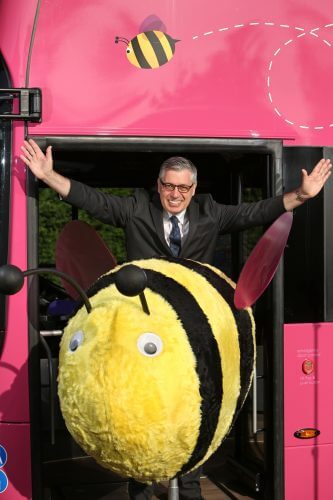 Operator also opens competition to name the route's new mascot
Uno Buses has launched its Violet route 19 in Northampton, utilising eight new Alexander Dennis Enviro400 double-decker buses.
Uno Buses, along with the University of Northampton, invested £1.5m in the eight vehicles. They run up to every 12 minutes serving both University campuses, Kingsthorpe, the town centre, the railway station and Sixfields.
The vehicles are specified with super-fast WiFi and USB charging points.
The company is now appealing for customers to help name the route's bumble bee mascot, which appears on all eight buses.
Jim Thorpe, Managing Director of Uno Buses, said: "It's been great fun getting out and about this week chatting to customers. We've been telling them all about the new buses and the investment, but there's just one question that keeps on popping up, what's the bee's name?
"So after getting a few suggestions, we thought we should let the creative people of Northampton take the lead and help us name our bee."
The winning name will be chosen by a panel of bus drivers from Uno's Northampton bus depot after entries close on November 15, 2017. The winner will see the bee's name added to the exterior design on all of the buses.