GERMANY The coming years will see a noticeable increase in the number of MAN buses in the striking red colour of DB regional buses. Between 2019 and 2022, up to 1,000 buses of the models Lion's City and Lion's Intercity may be put into operation by 31 German regional bus companies belonging to DB Regio AG.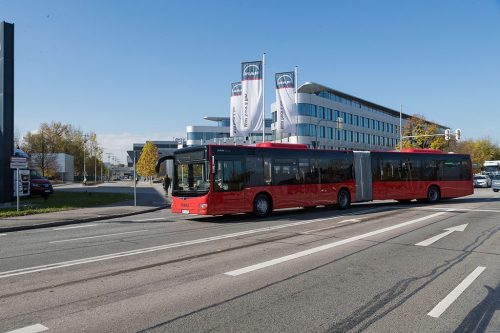 "We believe the fact that Deutsche Bahn, which is an excellent reference customer, chose MAN's bid in their current tender, is an extraordinary sign of faith in our bus products and associated services," said Joachim Drees, Chairman of the Management Board at MAN Truck & Bus AG.
"This decision is a testament to the efficiency, technology and driving comfort of our city and intercity buses."
The contract includes all length variations of the low-floor city buses as both a rigid vehicle and articulated bus from 12 to 18.75m.
With their wide, low-floor entrances and large special use areas with space for wheelchairs and pushchairs, city buses provide quick and comfortable access for all passengers. If required, there is also ramp access at the second door.
The passenger area also has a high-contrast visual design to allow passengers with visual impairments to easily find their way around, and stop request buttons come with braille. Euro VI engines provide between 280 and 360hp.
In addition to Lion's City city and intercity bus variants, the contract also includes the MAN Lion's Intercity intercity high-floor bus in lengths of 12.2, 13 and 13.2m. These also have modern D08 engines installed in the rear area with 250 or 290hp power outputs.
"The German MAN distribution company has never concluded a framework agreement of this size before," said Holger Mandel, the Chairman of the Management Board at MAN Truck & Bus Deutschland.
"This is an absolute record and the fruit of the outstanding work of our employees from Bus Sales and the After Sales department."
Deutsche Bahn and MAN Truck & Bus are continuing a long-standing business relationship. Since 2015 there has been a master agreement in place regarding the supply of local short distance buses and coaches. MAN delivered approximately 700 of these vehicles to DB Regio Bus in the past three years.
"We are very pleased that our cooperative and trusting collaboration will continue," said Frank Krämer, Head of Bus Sales at MAN Truck & Bus Deutschland, at the signing of the latest contract.
In the past year MAN has delivered over 220 city and intercity buses to DB Regio Bus. "We are predicting a similar figure for the current year," he said.
Deutsche Bahn is the largest provider of bus transportation in Germany with approximately 633m passengers in 2016. The bus division is part of the passenger transport department, which is within the business of DB Regio. Over 35 bus companies and shareholdings provide transport across all of Germany.