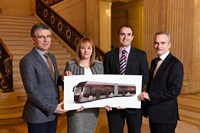 30 Van Hool artics due to enter service with Translink in 2018 as part of £19m project
A 30-strong fleet of Van Hool Exqui.City articulated buses is to enter service with Translink in Belfast in September 2018 for the opening of the city's new Bus Rapid Transit (BRT) system.
The development was confirmed on Thursday (November 26) after Van Hool was awarded the £19million contract to supply the vehicles – set to be the UK's first deployment of the type which are proving increasingly popular in other European cities.
While the Exqui.City is available with a number of different propulsion systems supplied by Van Hool, there is also a gas-powered Scania underframe. Van Hool confirmed to CBW that the Belfast examples will be a "100% Van Hool vehicle" with a Cummins diesel engine to power the hybrid electric driveline.
The 18-metre-long BRT vehicles will have a capacity of around 100 people. The tram-like buses will be a key part of the BRT system image. They will have three sets of double doors providing easier and quicker boarding and alighting, air-conditioning, CCTV for passenger safety, audio-visual information announcements and WiFi.
Larne-based Road Trucks Limited will provide commissioning, maintenance and specialist support services for the BRT vehicles.
Transport Minister Michelle McIlveen said: "This is a very significant step forward in the BRT project which, as part of the Northern Ireland Executive's Programme for Government, is set to transform public transport in Belfast.
"The purchase of the new BRT vehicles represents a significant investment by the NI Executive in our public transport system. The sleek and modern vehicles will be specifically designed for Belfast and will mark a new era for public transport in Northern Ireland."
Van Hool's Director of Design and Development, Jan Van Hool, said: "There is a rapidly growing demand for tram-like buses, such as the Exqui.City, in major European cities. We are very pleased to have secured this important contract."
The first phase of the BRT will connect East Belfast, West Belfast and Titanic Quarter, via the city centre and provide a high quality public transport service. Work on the project began in May last year and, 18 months into the scheme, a new 520 space Park & Ride site is now in operation in Dundonald. Works have been completed on the routes at Ballyhackamore in East Belfast and on the Falls Road, between Grosvenor Road and Whiterock Road in West Belfast. New bus lanes on the latter went live on November 2, helping to improve reliability for existing bus services.
Work is underway on the Upper Newtownards Road between Holywood Arches and Sandown Road, and on the Falls Road and Divis Street, between Millfield and Grosvenor Road – and a start is to be made on the Stewartstown Road early in the new year.